THANKS
Every year we are able to help many people in our community. For obvious reasons we would not wish to publish their stories and intrude upon the life challenges that they are working to overcome. However occasionally we receive an email or letter that is so encouraging that we would like to share it with others. We always seek permission before any publication. Following a just a few of the recent letters, case studies and letters: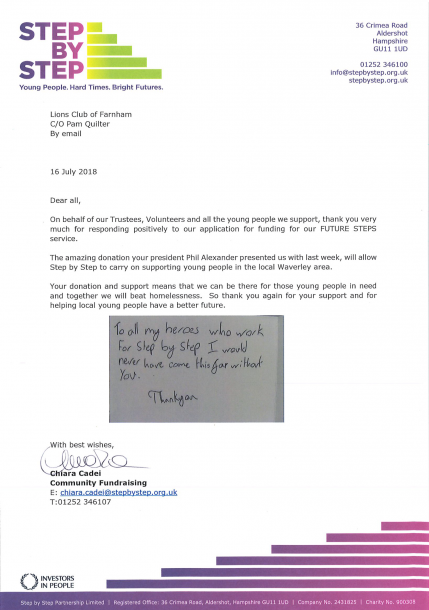 and a case study that puts their work in context, B is a young person living locally:
B was referred to Future Steps for support around confidence and looking for positive activities to do outside the family home as he helps to look after mum as a young carer. With a new care package to support mum, B has now got more time to explore activities.
Over the course of working with Future STEPS, Bís confidence has increased enabling him to attend a residential in the New Forest. While on the residential, B participated in all sorts of different activities; he engaged in conversations with other young people whom he hadnít met before and engaged with members of staff.
B has worked with our talent coach, to explore different types of hobbies that he would like to try and would now like to join a football club to further boost his confidence and be able to relate to his peers.
B and the talent coach are doing light sport activities to help build up Bí fitness level; they do this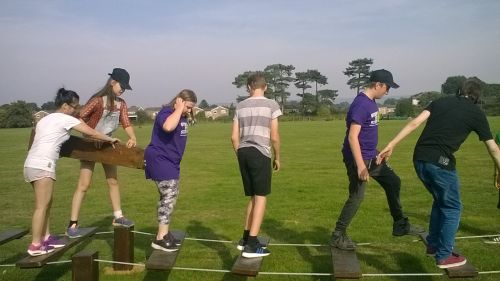 by playing football, tennis and practising goal keeping skills.
Working with the talent coach, B has also identified that he would like support with school work; building up confidence around homework and asking questions in the classroom.
B is currently working on his confidence in particular within the education setting. He would like to be able to ask teachers for support in lessons and with his homework, which at the moment he doesnít feel confident enough to do.
B has made huge positive changes whilst working with the talent coach and has shown this by engaging fully and opting for activities and meeting in places where he wouldnít normally feel confident going on his own.
The Girls at Stellar Gymnastics thanked us for helping them go on a residential trip this summer - See their tweet below:
https://twitter.com/stellargymuk/status/1012437427275911168
Lions President presents awards at Frensham Pond Sailability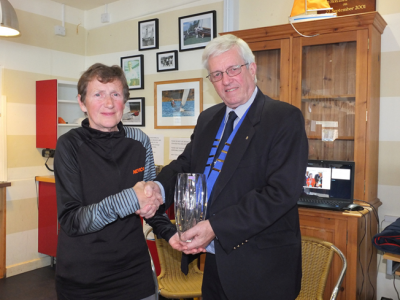 Lion President Phil Alexander was delighted to be invited to present a number of awards on 22nd November at the Annual Frensham Pond Sailability end of season forum. After a magnificent season at Frensham, Phil is seen here presenting a Special Achievement Award to Lindsey Burns.

Hale Community Centre thanked us....
The Lions donated £1000 in November 2016 to provide resources for our new club for girls. Hot Chocolate ran for about 7 months but take up was slow
and we decided to rethink the provision and timing. We launched Girlz Club in January 2018 and we are delighted to report it has really taken off, thanks mainly to a superb Youth Worker who has worked incredibly hard to build relationships with the girls. A thank you from the youth worker (which can be downloaded here) and the girls which details some of the activities that our funding made possible and the benefits of these to the group and individuals. On behalf of the Board of Hale Community Centre I would like to thank you for your contribution to the work we do within the community of Sandy Hill and Hale. Cathy Burroughs - Centre Manager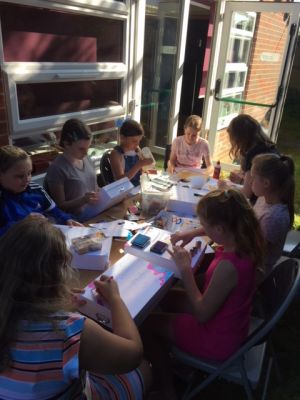 Some of the mails we have received really show the difference that we are able to make. In some cases the benefit is not only to the direct beneficiary, but to a whole family such as in this example:
Hi

"I asked my son in law for your contact details. I just wanted an opportunity to say thank you for all the Lions have done to help my grandson, John.
He is such a wonderful little man and a joy in so many ways to his parents and our entire family. The difficulty we have had in transporting him,
either in the car or walking has meant that Valerie, Brian and little Thomas h
ave had to miss out on so much as a walk in the park or a car journey to holiday have been fraught with danger and upset. The buggy and the harness were so expensive and they have been searching for ever for a second hand one that they could afford.
Your generous donation has moved us all to tears and for me personally, restored my faith in humanity. I honestly didn't believe that such
generosity and kindness still existed. We also attended the family fun day in Yately and to see the joy on his little face as he bounced on the bouncy castle was just wonderful. Thank you Lions for that day out too. We will be using the buggy and harness daily for some great days out.
Yours sincerely
Local Resident and Grandmother"
(All names have been changed)
"Can you pass on my thanks to the Farnham Lions for the funding they gave me towards the extra bannister in my flat. To help me with my Huntingdons as it makes me so unsteady on my feet and it has been a great help. Many thanks "
Name and address supplied.



I just wanted to say thank you for your support of the Sailability at Frensham. I missed your visit with your guests from Germany last week as I was ill. I have M.E. and depression. The sailability has helped me so much. It is the one thing each week that I LOVE TO DO! I have made so many friends at the group and have now received my Gold certificate from the Royal Yachting Association. Once again Thank You for your support! Name and address supplied 20th October 2015