FARNHAM BEEREX 2017 - 27th to 29th April 2017
Click any text box below to go direct to the information you want:
THANKS FROM BEEREX 2016
Thanks to everyone who came over the four sessions just held in April 2016 - What a fantastic three days!
Thanks to the 354 helpers, everyone a volunteer, that made Beerex 2016 happen again and a special thanks to you, our customers both old and new. It was our privilege to meet many who have been to all 40 sessions and also to meet an equal number for whom 2016 was their first Beerex - WELCOME one and all and we hope to see everyone again in 12 months time.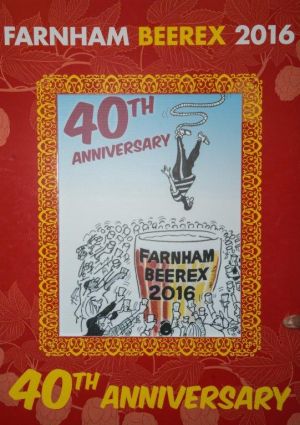 Want to see the pictures - we have added many to our Photo gallery - just click here to see if your were caught!
Thanks to the three breweries for their exclusive beers at this years festival ...... Langham's have been fantastic in creating a special beer for the Lions Centennial which is coming up, called Lions Golden Pride! Then there was SILENT FLIGHT, a 4.2% abv Bitter from Frensham Brewery and RUBY, RUBY, RUBY was a 4.4% abc Bitter from HopArt. They described this as a ruby red ale with a candied caramel sweetness and hoppy balance. I can honestly say I tasted all three and would be very happy to taste all three again. Thanks to all three breweries.

HOT OFF THE PRESS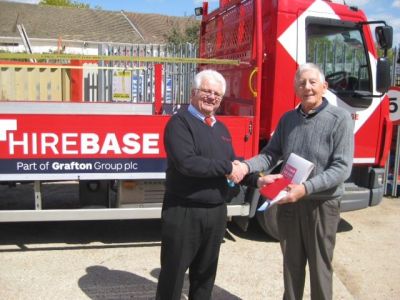 The winner of the 2016 Beerex programme competition was Peter Sawyer from Liphook. The prize sponsored by BuildBase is a Sunday Lunch Jazz Cruise on the Thames for two. Thanks to BuildBase and to Pete Myall, the assistant manager of Farnham branch for presenting the prize.
All profits are for the benefit of local charities