We are currently in the process of making major changes to our website- please bear with us during this period.
Stop Press for Farnham Beerex 2014


£36,603 raised for Farnham charity projects--thanks to everyone who came!
Serving the community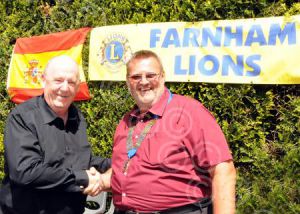 20114/2015 President, Keith Harris, sends you a warm welcome
Have you some time to spare?
Why not become a Friend of Farnham Lions and help us with one or more of our many projects: Community Service. Fundraising.
Or maybe join us for a social evening.
If Lions is what you are looking for then please drop us a line via the 'Contact Us' tab above.