Stop Press
1. Project Wenceslas - Fuel debt reduction.
Donations to 5th December amount to over £8,000--Thank you very much!
2. Farnham Beerex
Beerex 2014 will take place on Thursday 10th April, Friday 11th April & Saturday 12th April 2014. The public sale of tickets will be at 07.00am on Sunday 9th February 2014 at the Farnham Maltings. More details closer to the time.


Serving the community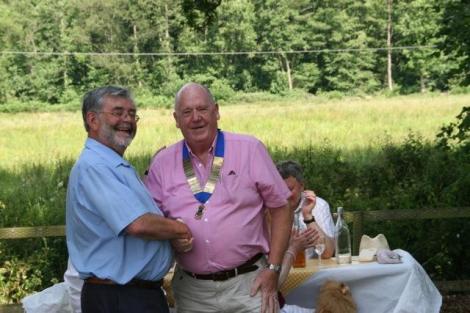 2013 President, Geoff Jeal, sends you a warm welcome
Have you some time to spare? Why not become a Friend of Farnham Lions and help us with one or more of our many projects:
Community Service.
Fundraising.
Or maybe join us for a social evening.
If Lions is what you are looking for then please drop us a line via the 'Contact Us' tab above.
Any and all help is gratefully received - and hopefully you will enjoy the experience!
Wenceslas Steps Out Again!
Following the remarkable success of their Project Wenceslas last year Farnham Lions are repeating the exercise in 2013. Once again the Lions are linking up with Farnham CAB and Farnham Sure Start with the aims of eliminating Fuel Debt and ameliorating Fuel Poverty in our local area. The funds which are used to achieve these demanding aims are the donations from local elderly people who most generously pass on their Winter Fuel Payments for the benefit of those who need the assistance far more than they do.

The situation is repeating itself this year; new people are on the debt register; and the fuel prices are even more of a challenge to the many families who are on or near the breadline. So today, on behalf of the Lions, and in the presence of our CAB and Sure-Start colleagues, the Farnham Mayor Paddy Blagden is officially launching Wenceslas 2013.
Thanks to the generous sponsorship of the Farnham Herald and Riverprint the full publicity will "hit the streets" in the Herald on 8th November - and donations can be made now via www.justgiving.com/lions-wenceslas
Wenceslas is also being launched this year - for the first time - in Haslemere and word has got out in the Lionistic Community and five other Lions Clubs in West Surrey including Godalming, Guildford and Cranleigh are running their own versions of the project for the first time in 2013.
So........."In their master's steps they trod" with the message "Ye who now will bless the poor shall yourselves find blessing.