Welcome to Farnham Lions
We are delighted to welcome you to our website and hope that you will find the information that you are looking for. We do welcome feedback that would make the site even more useful to those it is here to serve - you and our local community. We always have a lot on - so if you can't find something please just ask us on the 'Contact Us' page above.
Easter Eggstravaganza Launch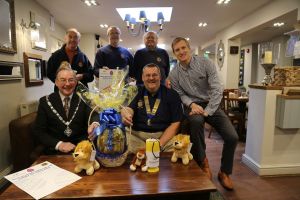 Now in its ninth year, the Lions Easter Eggstravaganza raises much needed funds for the Surrey Air Ambulance. We are proud to have started a project that has raised well over £100,000 for the air ambulance - such an essential and needed resource but still funded by charitable donation. Please support us again when you see one of the magnificent eggs in and around Farnham. Our thanks to the Town Mayor for his support at our launch on Friday 20th February at The Wheatsheaf Pub in Farnham, and The Wheatsheaf for their hospitality in hosting the launch. It only costs £1.00 a go and you have a great chance to win one of the 100 huge eggs in the Farnham area, so please do join in and have a go.
Have you some time to spare?
Why not become a Friend of Farnham Lions and help us with one or more of our many events and projects:
Community Service, Fundraising, Beerex, Carnival - we can always use willing hands and you'll have a great time! If you missed out on our last friends evening, or couldn't come along, and would like to know what went on please use the contact us tab above or send an email to simon.moran-smith@farnhamlions.org.uk and we will happily add your name to the invitation list for the next one later in 2015.
One not to miss - Major Event we are holding this May
If you are interested in vintage cars, or in Indian food, culture and dance, then this is one not to be missed. Intrigued as to how cars and India fit then just click here for more information. Hope to see you there!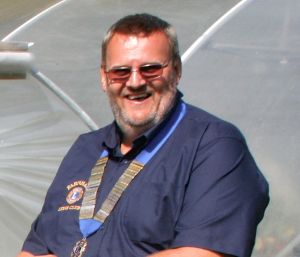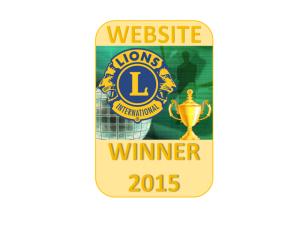 2014/2015 President, Keith Harris, sends you a warm welcome Our latest award - Congratulations to our Webmaster
Have something you want to donate to charity?
Why not call the Lions Community Store who would be grateful for your support. They are always keen to hear from you and will collect anything they can re-use and provide benefit to those of in our community in need. Click here to go to the page with their contact details now or call 01252 616998.