Charity Golf Day
The 2017 Farnham Lions Golf Day' will be held once more at the fabulous Hindhead Golf Club on Thursday August 31st. This year the funds raised will be in aid of the Peter Allis Masters Charity (PAMC). Since it formally became a charity in 2006, PAMC has raised over £1.5 Million to fund hundreds of powered wheelchairs for young people with very limited mobility to improve their quality of life. Although a national charity PAMC have very kindly agreed to 'ring fence' the proceeds from the 2017 golf day to one or more young people in the Farnham area who have a need for a powered wheelchair. This years event is very generously supported by our principal sponsor, Howard Taylor Mortgages.
About our Golf Day
We hold an Annual Charity Golf Day every August in conjunction with Hindhead Golf Club and with support from several local businesses. Starting in 1997, the event has gone from strength to strength, and it is now very much part of the calendar of Hindhead Golf Club and a major event in the calendar of Farnham Town. Each year the beneficiary is chosen and Abbeyfield Home for the Elderly, Frensham Pond Sailing Club ("Sailability"), Bells Piece Cheshire Home, and Phyllis Tuckwell Hospice, amongst others, have all been the beneficiaries of our event. The very first event in 1997 for the Whitmore Vale Home raised £1,195, and progressively this has risen each year to achieve totals in excess of £7,500. Our success throughout the 20 years to 2016 has raised over £123,000 for local charities and is due to the high number of regular players, both individual and local businesses and the magnificent support of programme advertisers and auction prize sponsors, as well as a large number of Farnham Lions and friends who act as marshals and stewards on the day.
This will be the 21st anniversary of the Lions Golf Day and this coincides nicely with the Centenary Anniversary of Lions International and the 50th Anniversary of Farnham Lions –so 2017 is a very special year indeed.
Once again we hope to have over 90 golfers enjoying a round of golf, lunch, prize giving and a charity auction. Although we always offer places first to those who have supported the event so well in the past, we do occasionally have a few spare team and individual places so if you would be interested in playing please could you contact Les Walton (les.walton@farnhamlions.org.uk) inserting 'Please contact me re Lions Golf 2017' into the subject line. The cost per individual is £90 and per team of three is £270.
The 2016 event
Thanks to all who took part and to all those who contributed to making our '20th' Annual Golf Day such a success.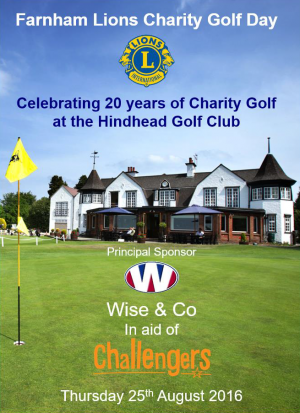 The overnight showers freshened the course, the sun shone brightly, Hindhead Golf Course was at its spectacular best. 99 players with a wide range of handicaps made up a record 33 teams of 3 bearing some fascinating team names and some wearing equally fascinating apparel!

Experiencing enjoyment whilst at the same time raising much needed funds is a good combination. We are delighted to announce now that over £7700 was raised this year and presented to Challengers in October. (You can see the full press article by clicking here.) We know that Challengers will use every penny supporting hundreds of children and young adults whose lives will be enhanced by the support that they receive.

Laura Sercombe CEO of Challengers said "The Lions are an absolutely fantastic organisation, Challengers are so lucky and privileged to have their support. The amount raised is huge and was put towards funding Challengers new website which went live at the beginning of November! The new website will have a huge impact on the way we work and enable us to support even more families. We cannot thank the Lions enough – they are amazing!"
Ninety Nine golfers took part and the main results are below.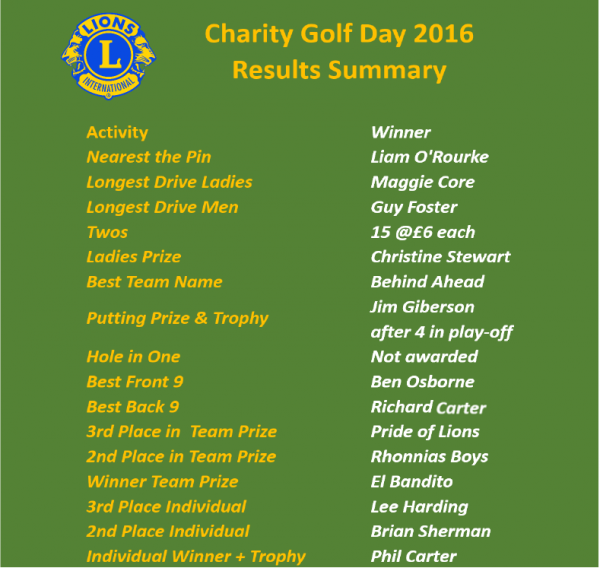 Many thanks to David Fisher, President of the Aldershot, Fleet and Farnham Camera Club and to Jean King, ably assisted by Keith Aston for all the wonderful photographs.