Farnham Beerex
Today, the last two sessions are sold out
- but there are usually returns on the door - so come on down
and join the party. Two great nights already - today is your last chance.
Farnham Beerex is the longest running beer festival in the country at the same location since it started in 1977. Now well established in co-operation with both the Farnham Maltings and CAMRA, this event is the major fun and fundraising event for Farnham Lions. Staffed by well over 200 volunteers, all of whom are unpaid, its a truly unique event that is firmly fixed in the towns social diary. Well done to everyone who helped 2014 to be yet another huge success with £36,603 raised for Lions' charitable purposes.
Beerex 2015 is being held on Thursday 23rd - Saturday 25th April . There are sessions from 6pm to 11pm on Thursday, Friday and Saturday, and also 11am to 3pm on Saturday
Useful information regarding Beerex is available on this page including a list of the beers for 2015. Just scroll and see all the fun for April this year.
Few Real Ale enthusiasts in England will be unaware of Farnham Beer Exhibition (Beerex) and the fame of this event has spread much further afield. Coach parties from all over the south are a regular occurence every year.
Thousands of imbibers descend on the town for a few days each Spring to sample the year's selection of fine ales, ciders and perries.
Around 70 beers are available from 30+ breweries and all tastes of bitter, ciders and perries are catered for.
Hot food is available from the in-house caterers and a BBQ is on offer in the courtyard.
Live music is played at each session.
The Beer and Cider Lists for 2015.....
Click here to download the Beer List
and
Click here to download the list of ciders and perries.
As mentioned on our sponsors page, Badshot Lea Van Hire has been supplying us with vehicles to collect heavy items for Beerex for some years, and are very supportive of Lions in general. Their support this year has once more brought the supply of vehicles to us free of charge, and in return we carry their advertisement below.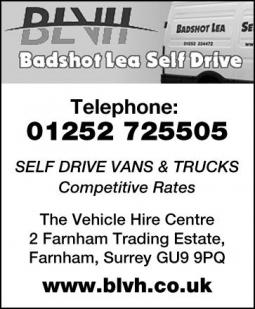 To visit their web site click here