Thanks for all of your support in 2015 at our 39th Annual Beer Festival.
Farnham Beerex's 39th Annual Beer Exhibition opened its doors on Thursday 23rd April 2015 at 6pm in the evening in a blaze of wonderful weather ensuring a great night was had by all. With all the beers available on tap and some wonderful new and exciting ales available, the atmosphere was guaranteed by a fully participating crowd of 1300. Opened by the Mayor of Farnham, Cllr Jeremy Ricketts, this year's first night created something of a record. For many, many years the evening had been the Cinderella of the event not reaching sell-out status for sometime. But with new breweries, new beers, St George's Day and wonderful sunshine a record attendance was a certainty.
Great music from local band Straubenzee and a full barbecue available all helped the consumption of ales to go beyond the 20,500 pint mark with over a further 2,00 pints of cider. This sort of popularity ensures that Farnham's festival continues its reputation of being the longest running festival to be held in the same venue anywhere in the UK.
Next year, 2016, will be the festival's 40th and you can be sure that something special will be served up to tempt the regulars to be part of that celebration, and don't assume you can leave buying your Thursday night's tickets to the last minute, based upon this year's experience they will sell out as quickly as the other sessions. The dates are 21st to 23rd April 2016, with St Georges Day on the Saturday. What a wonderful excuse for a party!
Pictures of our 2015 Souvenir glass and of the official opening with Mayor Jeremy Ricketts accompanied by, from left to right, Lion President Keith Harris, Mayor Jeremy Ricketts, Lion Peter Matthews and Beerex Chairman and Lion Phil Alexander are below. Many more fun pictures to follow soon, once we are all recovered.....
****************************************************************************************************************************************************************************
Farnham Beerex is the longest running beer festival in the country at the same location since it started in 1977. Now well established in co-operation with both the Farnham Maltings and CAMRA, this event is the major fun and fundraising event for Farnham Lions. Staffed by well over 200 volunteers, all of whom are unpaid, its a truly unique event that is firmly fixed in the towns social diary. Well done to everyone who helped in 2014, and made it yet another huge success with £36,603 raised for Lions' charitable purposes.
Beerex 2015 was held on Thursday 23rd - Saturday 25th April . Results will be announced here once finalised .... watch this space!
Useful information regarding Beerex is available on this page including a list of the beers we had in 2015.
Few Real Ale enthusiasts in England will be unaware of Farnham Beer Exhibition (Beerex) and the fame of this event has spread much further afield. Coach parties from all over the south are a regular occurence every year.
Thousands of imbibers descend on the town for a few days each Spring to sample the year's selection of fine ales, ciders and perries.
Around 70 beers are available from 30+ breweries and all tastes of bitter, ciders and perries are catered for.
Hot food is available from the in-house caterers and a BBQ is on offer in the courtyard.
Live music is played at each session.
The Beer and Cider Lists for 2015.....
Click here to download the Beer List
and
Click here to download the list of ciders and perries.
As mentioned on our sponsors page, Badshot Lea Van Hire has been supplying us with vehicles to collect heavy items for Beerex for some years, and are very supportive of Lions in general. Their support this year has once more brought the supply of vehicles to us free of charge, and in return we carry their advertisement below.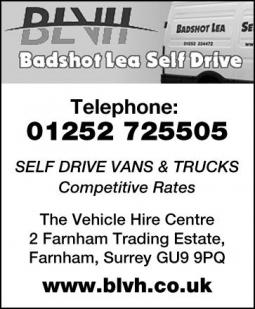 To visit their web site click here