The Farnham Lions Charity Advent Calendar
Win great prizes donated by local businesses and supporters. £5 per calendar. All proceeds go to local good causes via Farnham Lions Club
The calendar is sponsored by Andrew Lodge, Micheal Conoley, The Herald, Robert & Tanya Lewis and Southern Properties & Management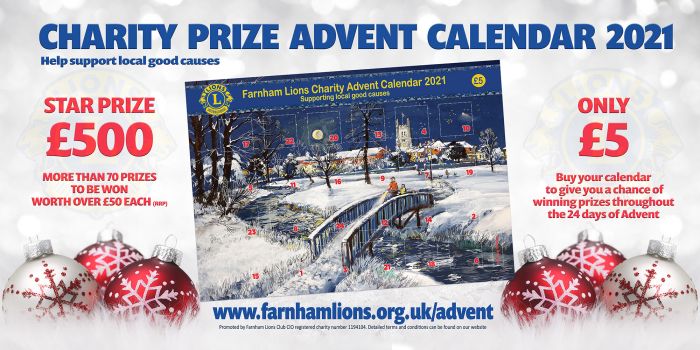 HOW IT WORKS
Buy a calendar and then every day from 1st to 24th December, check farnhamlions.org.uk/advent to see if your unique number on the front, bottom right of your calendar, has won a prize. Follow the instructions on the website, arrange collection from the prize donor or alternative location and enjoy the prize! It is that simple…..
Each window reveals several prizes to be won. In total, more than 70 prizes have generously been donated and they include a wide variety of experiences, goods and discounts including vouchers for meals, distillery and brewery tours, weekend test drive of hydrogen powered car, play a £10k guitar, car valeting, free MOT, adventure in Alice Holt, and on the final day the top prize of £500 in cash!
Where to buy your calendars
Date Venue
24th Oct Farmers Market in central car park
2nd November Maltings Market
20th Nov Farnham Christmas Lights switch on
28th Nov Farmers market in central Farnham
Local businesses selling on our behalf throughout October and November including.........
Farnham Herald Office - West Street, Farnham
UMG café - Waverley Lane near the station
Hogs Back Brewery Shop
Waverley Foot Clinic, East St Farnham
Barista Lounge/Bistro Downing St
Bears Restaurant Downing St
( More locations will be added)
Occasional presence during October and November
Various events at Farnham Maltings
Tilford Village Shop
Outside Morgan's in the Ridgeway
PRIZES INCLUDE
MOT, 2 x No.5 Car Washes,

External & internal car wash & polish


3 months on-line Pilates
Subscription


Afternoon tea for 2

Meal for 2 worth £50


4 x tow tickets Thursday Evening Tickets

Introductory Hypnotherapy Session

Meal for 2



Voucher for ceramic painted mug

Afternoon tea for 2 & Family Membership


£25 Voucher

4 x £25 voucher


1 Years subscription

£66 Voucher

2 x Tour & Tastings for 2,
Cocktail Masterclass for 2
Gin School fo 2
PLUS 15% discount on full price
web items with code ' gorillalions '


Pendant

Guitar Experience
Your chance to play a £10k guitar



4 x £50 meal vouchers for 2

£50 Voucher


Brewery tour for 4


£50 Voucher


Original Water Colour


2 x Tyre Alignment


2 x Rolled Turkey Breasts
Uncooked ham
Joint of Beef


MOT


£50 Gift Card

£50 Voucher


4 x £50 Vouchers


Bronze Turkey 4.5kg
£60 Voucher


60 Min Segway Experience for 2


£50 Garden Centre Voucher


£55 Hair Cut


£50 Voucher

Pair of Sunglasses

Christmas Hamper


2 X Podiatry Sessions

Bottle of Gin, Case of Wine
Case of Beer & a Magnum


4 X Mot's
PLUS A VERY SPECIAL
MONEY CAN'T BUY EXPERIENCE


Miria Hydrogen Car test
for a weekend

Weekend Electric Car Test

3 Months Membership for two
If you have any questions, please email advent@farnhamlions.org.uk
December 13th will be a lucky dip day and on December 24th the top prize of
£500 will be won!
Farnham Lions Advent Calendar 2021
Terms and Conditions
The Calendars will be on sale at a number of events and locations in Farnham from October until 28th November 2022. All the proceeds of the Advent Calendar will go into the charity account of Farnham Lions Club to support local good causes.
The price for each calendar if £5. There are no discounts for multiple purchases.
There are no refunds on calendars and they are not for resale.Each calendar has a unique serial number in the bottom right of the picture on the front painting.
Only the serial numbers of the calendars sold will be entered into the draw.
There will be a separate draw for each of the 24 days on the calendar. Each day will have one or more prizes and the winning serial number for each prize will be recorded. If you want to know if the serial number of your calendar(s) has won a prize, you need to access the Farnham Lions Website.
The winning numbers and the prize they have won will be published that day on the Farnham Lions Club website farnhamlions.org.uk and on various social media forums. Weekly, the results will be published in the Farnham Herald. All winning numbers will be kept on the website until end of February 2022.
The winning serial numbers can only win once and will be removed before the next day's draw.
If you see that the serial number on your calendar matches a winning number then you have won that prize. There will be instructions on the website on how to claim the prize – typically there will be collection instructions from the prize donor or if that is not practical, collection may be from a different location. For any collection you must take your calendar as proof of winning.
Farnham Lions Club are not liable for any of the prizes. There is no guarantee that the published prize is available particularly as circumstances may have changed due to the impact of Covid. However, Farnham Lions Club will put in every effort to find an alternative prize.
Prizes cannot be swapped for cash nor for a different prize.

If you win a prize, you have of course the right to transfer it to someone else.
Prizes must all be picked up by the end of February 2022. However, some prizes may be limited by date eg a restaurant giving a voucher for meals only if taken before the end of January 2022.
Some prizes will have constraints not only on dates but possibly on age, clean licence, location, etc for example car test drive. There may be safety rules eg Go Ape, Anytime Fitness, and limit on numbers eg from a restaurant where a discount might only apply to food or a limit on numbers eg minimum of 4 guests.
advent@farnhamlions.org.uk and we shall endeavour to reply within 24 hours.