LOCAL SUPPORT
Listed below are a few recent examples of Lions at work in your community. These are by no means comprehensive, as many are private individuals and we would not wish to publish their names. Often relatively small amounts can make a significant difference to Farnham families lives. Such an example we received in November by way of a contact through this website and we thank Mrs S for her kind words and are delighted to have helped:
"I would like to thank the Farnham Lions for the support they have given me with regards my my little ones nursery fees and for the bus pass they have provided for my elder son. Without this help my life would be even more difficult than it is already is, and they have helped remove the relentless pressure of money worries. The Lions have helped me more this last year than my own family or the family of my children, so for this I am eternally grateful. Thank you so much Farnham Lions." Mrs S. (name and address supplied)
Bells Piece Firgrove Hill Garden
The following is text from the Bells Piece eNewsletter in March 2019:
"The winter months have seen a great boost to plans at our new house; Firgrove Hill. The house, with room for eight residents, was formerly known as 'The Holy Spirit Sisters Home' and as such had an enclosed kitchen garden tucked away at the rear of the property. Since Bells Piece took over the site we've been clearing the plot (which was completely overgrown), moving trees, digging beds and salvaging the odd fruit bush or two.
Our biggest move forward, however, has been courtesy of the Farnham Lions Club who dropped in on a day in November and presented residents and staff with a cheque for £2500 in order to really renovate the kitchen garden and to make it a functional and valuable part of the house.
With such a generous and highly appreciated windfall, we plan to create a series of raised beds for fruit and veg, plus replace a very decrepit wooden potting shed with a decent greenhouse to assist in starting off germination.
The goal for the residents is, of course, to encourage activity out in the garden, planning and growing produce of their own choice that can be used directly in the kitchen and do a little bit towards the reduction of food bills, which is always a good thing. Having a pleasant green haven at the bottom of the garden too will also make the project more than worthwhile.
Huge thanks to the Farnham Lions! We look forward to showing off the garden as it progresses! "
Grim Styles
Full details of our work in the community can be read by downloading the 2018 Charity spending statement. Download here.
Examples of other organisations that we support to help our local community:
Surrey Young Carers
Surrey Young Carers is an organisation providing support for careers across Surrey. There are around 250 young carers aged between 5 and 18 years old in the Farnham area alone. Farnham lions have funded a course which was held in July 2015 to help about 20 such young carers from Farnham who are living with families where mental health problems are an issue, either with a sibling or a parent. The course will provide support and advice to help these young people cope with the situation in which they find themselves. The course took place at the Farnham Conservative Club in the centre of the town, after an initial visit to the Ceramics Cafe in Downing Street Farnham, where all of the young people were able to create their own piece of ceramic artwork. We are most grateful to the Conservative Club for its generous support in helping to run the course at their club premises afterwards and were delighted to hear from both the staff and young people who attended that the day was great success. Pictured below during the break for lunch, are Lion Barbara Wright, Lion President Simon, Trudy Waite (Young People Support Co-ordinator at Surrey Young carers, and Lion Graham Day.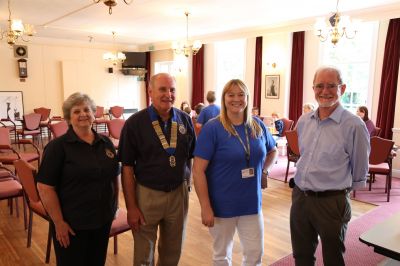 Surrey Young Carer Workshop

229 (Farnham) Squadron ATC
We were delighted to present a cheque for almost £2000 to support a project undertaken by the local Air Training Corps. The squadron, with its many young cadets are building a flight simulator aiming to give the cadets real life experience of aircraft flight. This is a significant and exciting project that will really benefit the whole squadron and all within it. Lions were therefore delighted to present the funds to purchase the custom built computer to run the flight simulation software being custom designed for the application. We wish them every success in completing the project which they anticipate is now just weeks away. May 2017.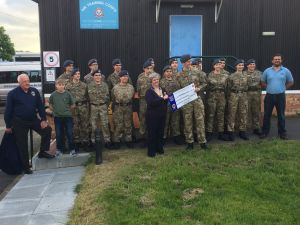 Tilford Environmental Play Scheme - Forest Fun Day
For a number of years Farnham Lions have been delighted to help the Tilford Environmental Playscheme by providing funding for a Ranger or Fun Day for a number of years, and 2017 was no different. 30th July saw a number of Lions visit the campsite in the woods at Tilford to see the children at their campsite. Caroline Adam, of the play scheme, was on hand to make sure the Lions didn't get too comfy in their camp making the Dragons Brew and their wooden snails!
Sailability
In 2001 Farnham Lions provided Lionheart, a safety boat for Sailability, the sailing club at Frensham Ponds for sailors with disabilities. 14 seasons later and with over 1000 outings providing a safety net for the disabled sailors, Lionheart has been pensioned off as it is nearing the end of its useful life. Consequently Farnham Lions have replaced the original safety boat with Lionheart 2. Pictured below is the official launch on 30 April 2015 in time for the start of the new season. The new boat is a Rigiflex Nematic 400, which to quote the team at Sailability is the latest in design for safety vessels and a huge leap forward from Lionheart. We wish it a long life in service for Sailability at Frensham Pond and hope that it never really has to roar to anyones saviour.
Another presentation to Frensham Pond Sailability
Farnham Lions turned out in force to view the new fixed jetty at Frensham Big Pond on Thursday 27th October last and to present their contribution of £4000 towards the cost. Lion President Barbara was among the ladies who went for a lift. Fantastic new facility that we are delighted to assist with funding, and congratulations to all who made it happen at Frensham Ponds Sailing Club and Sailability.
| | | |
| --- | --- | --- |
| Presentation of the donation | Lions President Barbara gets a lift! | Brian Grimwood explains the new facilities. |
Farnham Boxing Club
Farnham Lions are proud to have helped with an initiative by the youth services of St Thomas on the Bourne to set up a boxing club in the Brambleton Hall. Lions' financial contribution helped with the provision of safety equipment in the form of protective headguards for the youngsters training at the Boxing Club. We are pleased to see that the Boxing Club is going from strength to strength and is meeting a need for young people in Farnham. If your interested in knowing more go to the boxing clubs website at http://www.farnhamboxing.com/