YELLOW BAG's arrive all over the Town
Lions annual 'Christmas Food Parcel' appeal is well under way, with selection of roads around the town receiving yellow Lions bags through their door, asking people to donate food that will distributed to members less fortunate in our community. Donations can also be taken to the Farnham branch of Santander if your road did not receive a bag.
Bags will collected from the local area on Sunday 5th December and then sorted and distributed a few days later. Many thanks to all the community that support Lions through out the year and a special thanks for all your efforts with the food parcel project.

Lions Help to Light up the town
Christmas 2021 burst into life with the Town Council's super successful Christmas lights switch on in Gostrey Meadow. Lions where on hand to help marshal the event, even looking after the big man himself, Father Christmas! The lights where turned on by local celebrity and supporter of the Lions club, Lee Moran from 'Farnham Rants'. The event gave the club the chance to chat to new prospective members, promote their 'Project Wenceslas' fuel scheme and continue selling the 'Advent Calendar', the newest venture to fundraise for the local community .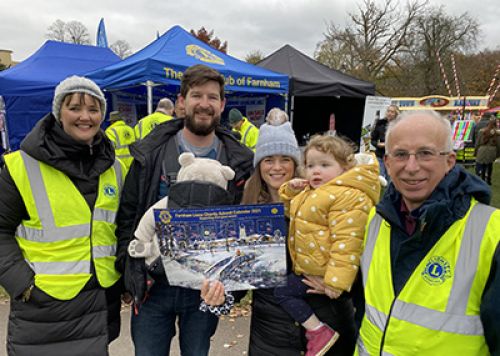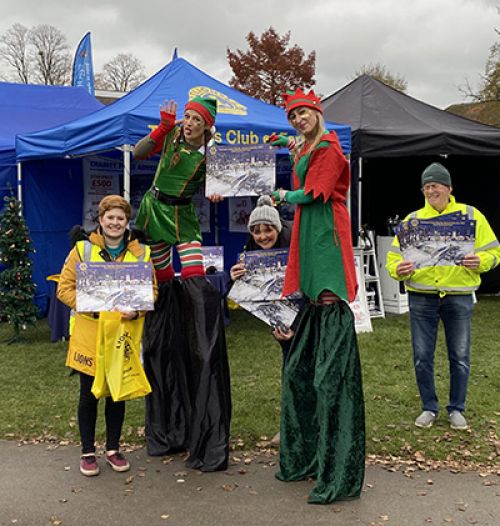 2020 Christmas food parcel collection
What a fantastic community Farnham is - great response to our appeal, and awesome job to get it all distributed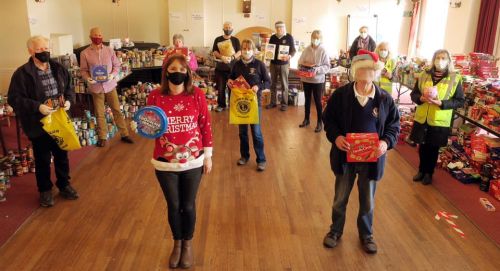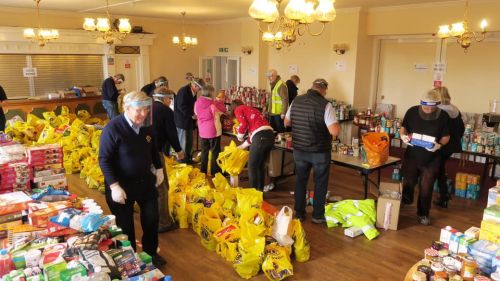 This year's Farnham Lions Xmas Parcels appeal was the best ever.
The Lions and other volunteers dropped leaflets and empty bags into over 2000 homes and then revisited them yesterday in the hope that many of the bags would have something in.
Over 10000 items were donated, each one of which was quality and date code checked and then repacked into parcels appropriate to single, small family and large family households.
Compared with the 280 parcels created last year, this year's donations produced a staggering 600 parcels which will find there way, via a number of local agencies, to households within the next few days.
Our thanks to all who donated and to all who helped make this appeal such a success during these trying times.
Thank you. Thank you. Thank you.
A 'Roaring' success... 2019
On a cool December morning Pupils representing St. Peters, St. Polycarps, Rowledge, Waverley Abbey, and William Cobbett took part in the finals of the Lions 'Roar' competition held at the delightful Wakehurst Place, West Sussex. Roar is a creative learning project that is fun and about developing "new ideas that could change the world". This was the first year that the schools had entered the competition and started with many more children taking part at each school in teams of three. They produced great ideas as well as models, posters and a jingle to support their ideas. Each school then chose a winning idea and team to present their ideas alongside pupils from other schools in the South East of England.
The ideas emanating from the Farnham Schools were creative, very well presented and all worthy of winning but this time it was not to be as the judges awarded the top prize to Burpham School who proposed a 'translator' capable of converting sign language into words and vice versa as the winning idea. Farnham Lion, Phil Williams said: "The members of the Farnham Lions are delighted to have been involved with each of the schools on this project and to have seen the fantastic work produced by the children and staff at each school. Our thanks go all involved.
Past Christmas food parcels events - every December
2019 - Another fantastic Xmas food parcel collection....
This year's annual Farnham Lions food collection resulted in over 290 bags stuffed full of assorted items which have been distributed to local agencies who in turn ensure that the bags with those most in need. At the start of December, the Lions distributed leaflets and bags to nearly 1,800 homes in the hope that residents would donate some items of food for those in real need: and hundreds of you did. Those bags were collected the following Sunday, sorted and packed into bags suitable for single families, small families and larger families. Each bag contained a combination of basic and essential items as well as Xmas treats.
The Lions would like to thank all the households who were kind enough to make a donation and to all those that helped the Lions collect and sort through the thousands of items. Farnham is a truly wonderful community, Happy Christmas everyone.
2018
With the generous responses from many hundreds of Farnham households from the 1750 we contacted every year, our team of Lions and helpers were able to collect a huge amount of both basic food and Xmas treats again last year. This was then all sorted, parcelled up and re-distributed to those less fortunate within 24 hours, often making the difference between some degree of misery and inner warmth on Christmas Day. In 2018 we supplied almost 250 grocery parcels to local individuals and families in need, made up from donations of food by people living in the Upper Weydon, Weydon Hill Road, Green Lane, Broomleaf Road, Weybourne and the Folly Hill areas of Farnham. The food parcels were then delivered via a total of seventeen separate local support agencies such as Home School Link workers, Sure Start, Family Support, Farnham CAB, Meals on Wheels and Surrey Youth Support, not to mention many local schools. Richard Fellows who, with Jane Mills, headed the project again this year said "Thanks so much for everyone's generous support and the well wishes from many contributors were really very gratefully received. Watch out for next year's collection which will take place on Sunday 1st December 2019." If anyone is in doubt about how worthwhile these collections are, just see the sort of comments we received back in recent years: "Thank you so much for the lovely Christmas Food Parcels you kindly sent to us for our clients. They are always very much appreciated and will make a lot of people very happy. I hope you and your colleagues have a lovely Christmas. Thank you once again. Kind Regards."(Name and address supplied) "We have already been out and about delivering the parcels and the families have been amazed by the generosity of the Lions. It has been lovely to see what joy the food parcels bring to the families who are facing many struggles and it really does make a huge difference. With very many thanks to all at The Lions – we really do value the huge support you give us."

The Team at work


and yet another mountain to sort and deliver






Returning to base to start sorting another car load

The Parcels ready for delivery
Christmas Elderly Persons Shopping and Party
In recent years we wanted to offer more to the community rather than shake buckets for donations in these difficult times. Activities have ranged from a shopping trip to Squires Garden Centre at Badshot Lea and then a superb tea with scones, jam and cream, cakes and sandwiches as well as a good English brew to help both the guests and their carers recover after a good look around the shop and all it had to offer. The then Mayor of Farnham, Cllr Jeremy Ricketts, joined the party and spoke with all the guests as well as thanking all involved for the wonderful afternoon and Christmas festivities.
The Party was organised by a small team of Farnham Lions, and on the day a dozen or so Lions were on hand to help with selection of goods in the shop, to assist with tea and contribute to a very enthusiastic reception of some of the children from Bentley C of E Primary School who came along to sing some delightful carols to one and all and to make it a really magical afternoon for the guests. Our thanks to the residents of Abbeyfield, the staff at Squires Garden Centre and the children from Bentley School. A great afternoon that we hope will become part of our calendar for many years to come.
Lions Tea Party - Spring 2019
Morphed from the old Elderly Persons Party, and now located in the new Memorial Hall is we hope a new annual event - The Lions Tea Party. There are many elderly people in Farnham, living in their own homes and not having the opportunity, for a variety of reasons, to socialise as much as they should or would like. Indeed, for many, our annual party is one of the "gala events" of their year and this is our main reason for organising it. The event will again be held in March or April each year and the first was attended by about 70 guests, which we hope to grow towards 100 next year. Throughout the afternoon we provide a choral entertainment and the tea that is served is of a very high quality. Amongst the many compliments we receive, both on the day and in Thank You notes afterwards, the food most often takes pride of place.

The Party is organised by a small team of Farnham Lions headed by Lion Barbara Wright, but on the day it is a three-Lion whip, for maximum help! Most of our guests are transported to and from the party by a team of Lions, family and friends without whose help the event would certainly not take place.

Our data base for invitees is always in need of updating and should any reader know of anyone who would like to join us for our next event in the Spring of 2020 and subsequent events then we would welcome details through the Contact Us page on this website.
Sometimes its so simple....
Community involvement and service is not always complex. Here we have a group of Lions helping Challengers manage their car parking for the Kellys Cycle Challenge event at Alice Holt Forest. To quote Challengers Head of Events & Communications " its amazing knowing that people will have a great experience from the moment they come through the gate". Well it was our pleasure to help....
| | |
| --- | --- |
| The Car parking team.... | Billy no mates manning the gate .... |
Farnham Lions and the Carnival - a tradition for almost 40 years.
Farnham Lions have organised or been involved in the Farnham Carnival for almost 40 years. It is not so much as a fund raising venture but simply to give a sense of community and a bit of pleasure to all who come along. Since 2000 we have combined forces with another Farnham service club, The Hedgehogs, acquired some generous sponsors, and greatly expanded the scope of the event. We believe the community would agree that this has been a great success, considerably enhancing the pleasure given by the event to participants and onlookers alike.
The 2018 event will be held again on the last Saturday in June, the 30th.
Look at all the details for the next Carnival to be held on Saturday 29th June 2019 at the Carnival Website - Click here
Infant Primary School Panto.
Each year the Farnham Lions entertain representatives from local infant and junior schools to a Panto! Oh no they don't I hear you cry! Well, Oh yes we do, and 2018 was no exception.
The event is always full, and one that is thoroughly enjoyed by all the children, and their accompanying school staff I think as well! This year the production was held again at The Maltings in December and played to a host of children from local schools who, judging from the noise, had a fantastic time! Oh no they didn't........ Oh yes they did! See the pictures in the Christmas Events section of our photo gallery. Happy Christmas everyone.
| | | | | | | |
| --- | --- | --- | --- | --- | --- | --- |
| Xmas Food Collections | | Elderly Persons Party | | Farnham Carnival | | Schools Pantomime |