Cider and Sausage 2023




A fantastic day in Gostrey Meadows







Winners of the Sausage competition







Winners of the Cider competition






Helping hand at Farmers Market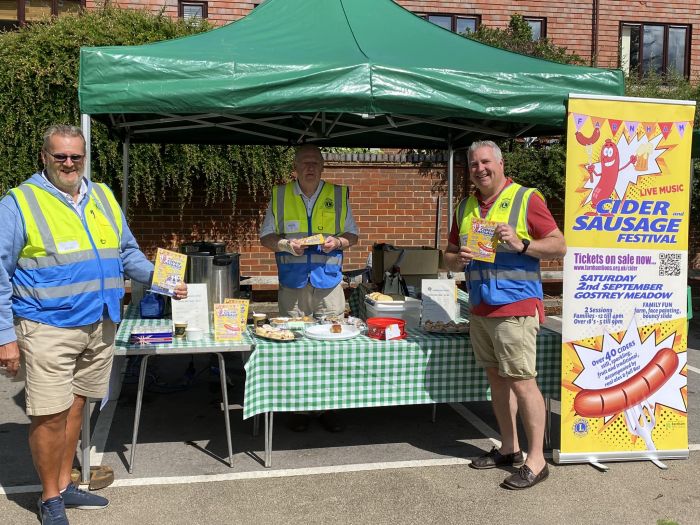 Farnham Lions were delighted to help out Farnham Town council at the monthly farmers market, Members of Lions offered a cuppa and slice of cake, while on hand to let people know more about what the club is doing and how we are supporting the local community.
Proud to support 'Farnham in Bloom'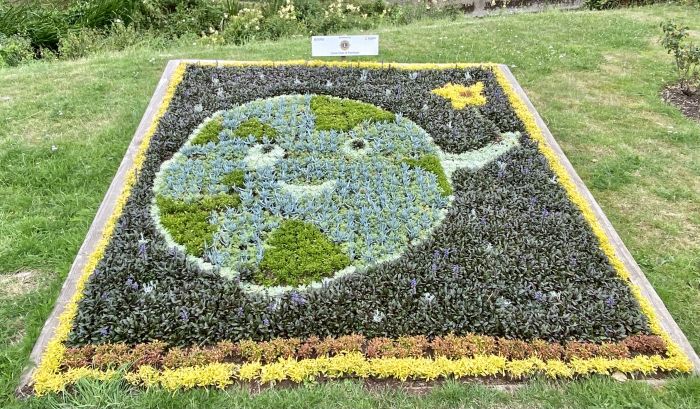 The winner of the Town Councils competition to design the carpet bed for Gostrey Meadow. Farnham Lions helped to bring vision come to life by sponsoring the bed which is part of the yearly 'In Bloom' Competition helping the town show off its amazing array of colourful flower filled areas.
Festive Food Parcel appeal delivered yet again in spectacular style




Selected areas of the town received their iconic yellow bags through their doors and a week later the residents of Farnham had generously filled the bags with food to be distributed to those less fortunate. Supported by the Reserve Centre that opened its drill hall doors to kindly host members of the Lions club and their Army of volunteers who sorted through bags that had been collected around the residential streets of Farnham. The donated treats, essentials, and Christmas goodies where sorted and delivered to 14 different local agencies as to directly support the needy in our community. Also, this year the amazing kindness of the community let the Lions deliver an abundancy of items to the Farnham Food Bank to help bolster their stocks for the festive period. They were delighted to accept a large donation but wanted to remind the town that the need for support is an all-year-round issue and look forward to more donations in the New Year from the town. Lions' President Mandy Main said, "Yet again the residents of Farnham never cease to amaze us with their generosity, with the whole country going through hardship the town has stepped up to support people in our community that are in need. Their kindness we make sure others have a square meal and some well apricated treats at this important time of year. We've worked closer than previous years with other agencies to help us target those in need while letting us fore fill the growing need of our local support networks. Also grateful thanks for the thoughtful donations from the Muslim ladies Islamabad, branch of Tilford. ' Mandy added, "We're also running our annual Wenceslas Fuel Poverty Fund which helps people struggling to stay warm and cook this winter with their bills. You can find out more on the Farnham Lions website farnhamlions.org.uk.'



Cider and Sausage 2022 was a great success.
Thanks so much to our sponsors, helpers, supporters and vendors, but the biggest thanks go to everyone that attended!!!! Your support will let the club support local good causes.
THANK YOU!!
Queen's Green Canopy scheme grows in Farnham
Lions joined forces with many other local Farnham organisations to help with the Queen's Green Canopy (QGC), a tree-planting initiative created to mark Her Majesty's Platinum Jubilee.
The Queen's Green Canopy focuses on planting sustainably, by encouraging planting of trees to create a legacy in honour of The Queen's leadership of the nation, which will benefit future generations.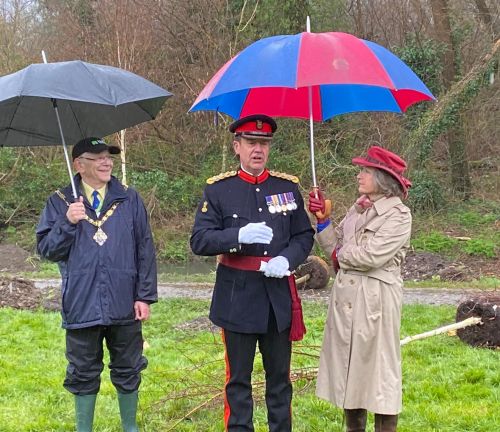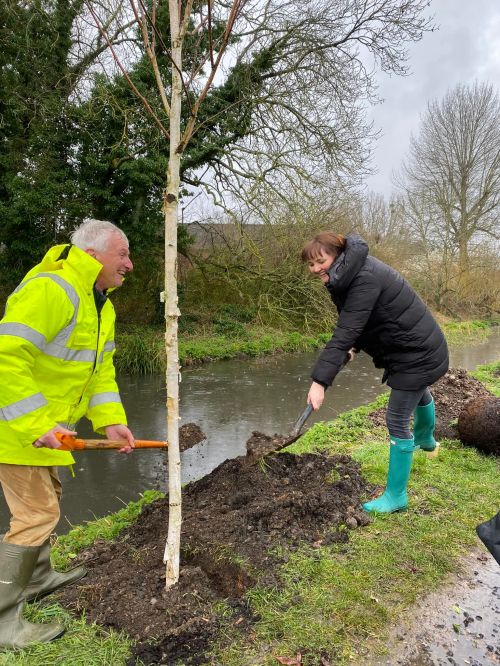 Mayor's pandemic support reception
Lions joined other members local community and charity organisations along side the Mayor of Farnham, Councillor Alan Earwaker at the COVID support reception. The evening reception on the lawns of Waverley Abbey House was an opportunity to recognise the extraordinary effort and support to the people of the Farnham made through the pandemic 2020-2021.
Lions add two more life savers ...

Earlier this year the ADF were delighted to site two new defibrillators, one on the outside wall of the Weydon Christian Centre in Upper Way and the second at the premises of A&D Car Care Services located on the Guildford Road Trading Estate. Both sites offer full public 24hr access seven days a week.For more details download the press release here

Defib.pdf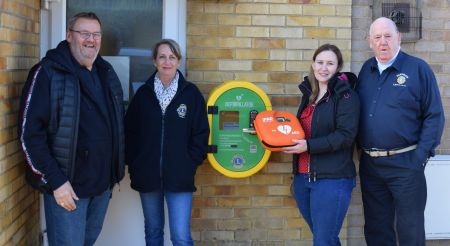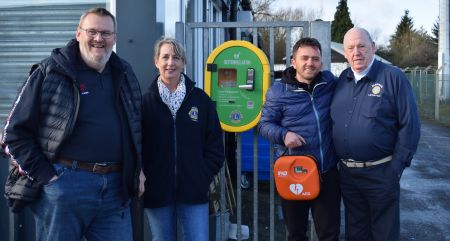 Ever wondered where all the money you help us raise really goes......
.....well just CLICK ON THE LINK HERE to find out just how diverse and broad our contribution to the community really is. This is of course in addition to the major project contributions where we run an event specifically for one or two local causes. If you would like to help us either raise more, or help in the disbursement in the community then please contact sally.ross@farnhamlions.org.uk
Are you looking to serve the community while having fun, fellowship and getting self-fulfillment?
As a club we'd love to tell you more about what we do in our local community and show you the opportunities we have for you to get involved and support our community. Whether you've only wanted to volunteer couple hours each year or join as a member we've got a place and project for you in our club. Be it pulling pints at Beerex festival, making sure Farnham Carnival goes off with-out a hitch, work with our welfare team to identify the needs in our community or would like to help sponsor an event with your company the opportunities to help numerous and varied. We have an extensive calendar of events including, Cider and Sausage Festival, Golf Day, Community Tea Party, Christmas Food Parcels, Wenceslas fuel poverty scheme, Cheese and Wine event, just to mention a few.

It's not all work and no play we have numerous social events, be it meals out, theatre visits an exchange visit with our German partner club and many, many more.
Know of a company that would like to fulfil its local social responsibility commitment we have many projects and would love to hear from you.
If you are thinking of supporting our local community be it only a few hours or want to bigger part of Farnham Lions or even the Lions International Community a trusted worldwide organisation we'd love to meet you.
Do you have some time to spare? Looking to meet new friends in the area?
Why not become a Lion, or a Friend of Farnham Lions, and help us with one or more of our many events and projects: Community Service, Fundraising, Beerex, Carnival - we can always use willing hands and you'll have a great time! If you missed out on our last friends awareness evening, or couldn't come along, and would like to know what went on please use the contact us tab above or send an email to peter.matthews@farnhamlions.org.uk and we will happily add your name to the invitation list for the next one to be held soon.
We are always looking for volunteers as well to help run events, and if you would like to help in 2022, please download a volunteer pack by going to our supporters page.

Have something you want to donate to charity?
Why not call the Lions Community Store who would be grateful for your support. They are always keen to hear from you and will collect anything they can re-use and provide benefit to those of in our community in need. Click here to go to the page with their contact details now or call 01252 616998.

The local charity community have thrown their weight behind Farnham Hospital's NHS superheroes. Members of the Lions, Hedgehogs and a legion of other volunteers are stepping up to the plate for the Covid crisis again - this time by staffing marshalling points at the town's first vaccination point. There they are making sure that those arriving for the shot understand inoculation process...and can swiftly be given the protection they need from the virus.