Welcome to Farnham Lions
Welcome to our website - we hope that you will find the information that you are looking for but please contact us if you need anything else. We do welcome feedback that would make the site even more useful to those it is here to serve - you and our local community. We always have a lot on - so if you can't find something please just ask us on the 'Contact Us' page above.
Latest News - Beerex 2019 Public Ticket Sale
The public ticket sale for Beerex 2019 was held on Sunday 10th February 2019 at 8am. Braving the winter rain, and sleet were almost 130 people the first of whom camped out from midnight to secure their tickets.
For full details of any remaining tickets now available online click here - but do not delay!
Beerex itself this year will be held on Thursday April 11th, Friday 12th and Saturday April 13th. We are always looking for volunteers as well to help run this huge annual event, and if you would like to help please download a volunteer pack by going to our supporters page.
Latest News - Help for Heroes Fundraiser details announced and tickets on sale.
Whether you are a hyper car, super car, classic or veteran car enthusiast, you will be enthralled at the variety and quality of what is one of the ultimate private motor collections in the country spread over three large museum buildings and positioned amongst one of the largest collections of vintage automobilia in the country.
Not only is the collection stunning, but you will be able to enjoy a huge variety of cars from around the country who all gather to support this fantastic day in aid of Help for Heroes. Hyper, Super, Veteran, Classic and Sports - all will be present and we hope a display of specialist army vehicles, as well as other attractions being finalised. To read more, and get your ticket click here
Latest News - Farnham Town Council announce 2019 Walking Festival details
Farnham Town Council have announced details of the 2019 walking festival with almost 40 separate walks and rounded out by Farnham Lions offering a special day of walks on 2nd June 2019 for all abilities in support of Farnham Lions Heartstart - the campaign that teaches simple skills that save lives and focusses on out of hospital cardiac arrest, and the importance of early defibrilation. For full details of the Heartstart training or to book a free of charge course go to www.heartstartfarnhamlions.co.uk or to see full details of the Walking festival 2019 go to their facebook page here We look forward to seeing you on 2nd June.
Project Wenceslas 2018-19 looks like another huge success
For more details of this superb annual project please click here

22nd Annual Golf Day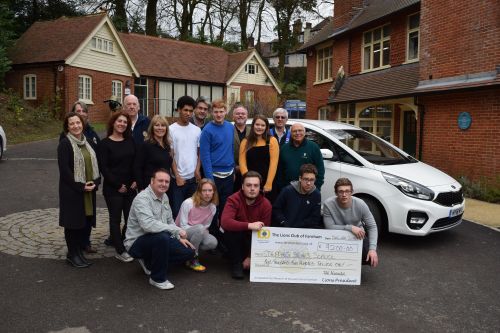 Members of the Farnham Lions along with Hindhead Golf Captains, Lesley Sullivan and Lorne Magory met at Stepping Stones School earlier today to present a cheque for £9200.00 raised by the Lions Club of Farnham Charity Golf Day. The money raised contributed to the purchase of a car which the school uses daily and has enabled post 16 initiative (employability) to access more employers for placements of their pupils across three counties.
Photographed are Phil Alexander, Farnham Lions President, Carl Taylor, the Chairperson of the Farnham Lions Golf Day, Lions Sally Ross and Geoff Jeal, Hindhead GC Captains Lorne Magory and Lesley Sullivan, Stepping Stones Staff members, Sharon Setterfield, Steve Grigsby, Stacey Morrin. Business Manager Isaac Xenitides and students Noah House, James Voake, Ollie Snow, Emily Rich, Georgina Stronge, Daniel Jindu and Charlie Forbes Nixon.
To date this event has raised £142847 to support selected local projects.
For information on the previous years Golf days please click here.
The money we raise continues long after the event to help those in need in our community. The 2017 Lions Club of Farnham Annual Golf Day raised £10000 in aid of the Peter Alliss Masters Charity which funds electric wheelchairs for young people. Katie Shute, a pupil at the Abbey School, Farnham was amongst nine children who attended an event on 20th September 2018, a year later, organised by PAMC to receive their individually designed wheelchairs from Peter Alliss personally. Katie along with her parents John and Andrea are photographed with Peter Alliss and members of the Farnham Lions Golf Committee.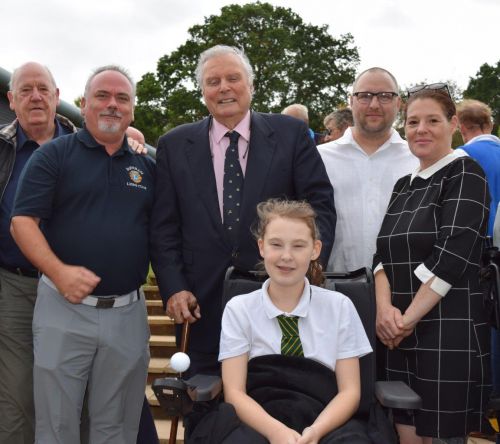 Do you have some time to spare? Looking to meet new friends in the area?
Why not become a Lion, or a Friend of Farnham Lions, and help us with one or more of our many events and projects: Community Service, Fundraising, Beerex, Carnival - we can always use willing hands and you'll have a great time! If you missed out on our last friends awareness evening, or couldn't come along, and would like to know what went on please use the contact us tab above or send an email to sally.ross@farnhamlions.org.uk and we will happily add your name to the invitation list for the next one to be held soon.








Have something you want to donate to charity?

Why not call the Lions Community Store who would be grateful for your support. They are always keen to hear from you and will collect anything they can re-use and provide benefit to those of in our community in need. Click here to go to the page with their contact details now or call 01252 616998.




A message from our President Phil Alexander




I am proud to have been elected President of our enthusiastic and hard working club.
We have exciting times ahead of us with celebrations of 100 years of Lions world wide in 2018. So please do keep a watchful eye on our Website for future news and we welcome all to come and get involved in any of our community activities.