Welcome to Farnham Lions
We are delighted to welcome you to our website and hope that you will find the information that you are looking for. We do welcome feedback that would make the site even more useful to those it is here to serve - you and our local community. We always have a lot on - so if you can't find something please just ask us on the 'Contact Us' page above.
The Otter Wey Trail - Latest News
After many months work, all of the fabulous 44 otters that form the Otter Wey Trail for the Farnham Town Council Mayor's charity, are ready for you to find around the town now. Unfortunately two of the otters attracted unwanted attention and were badly damaged on the first Sunday they were out, so the remaining otters that were in open areas deemed to be vulnerable were relocated to safer dens. The location map for the Otter Wey Trail can be downloaded here: Click to download
The two damaged otters are being worked upon, and Between the Lines and Burns & Webber will be their new homes as soon as they are well enough again to meet you. The Otter Wey Trail competition leaflet is available and can be picked up from the Town Council Offices in South Street or any of the locations where you see an otter. Take a look.....and wow, do please admire the otters around town - they are amazing..... If you haven't heard of the Otter Wey Trail take a look at the project - just Click here.
The Otter Wey Trail Competition leaflet is available here as well - JUST CLICK HERE TO DOWNLOAD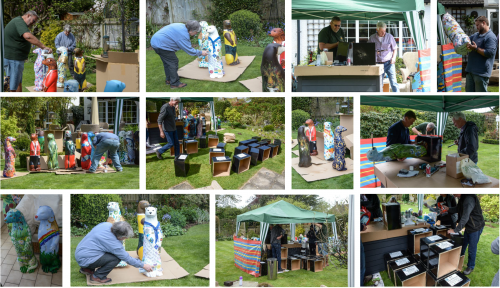 We are pleased to host the auction site for the otters that have been decorated to amazing standards by community groups, schools, local businesses and professional artists, if your interested in seeing all the otters and maybe bidding just click here.
The Farnham Lions Otter
We are delighetd to introduce 'Lion L' celebrates not only our major work with and sponsorship of this fantastic community project, but also the 50 years of service that The Lions Club of Farnham has provided to our local community. Lion L was decorated and created by Georgina Ellis using the Lions logo colours of Blue and Gold. Thanks Georgina for a stunning piece of work.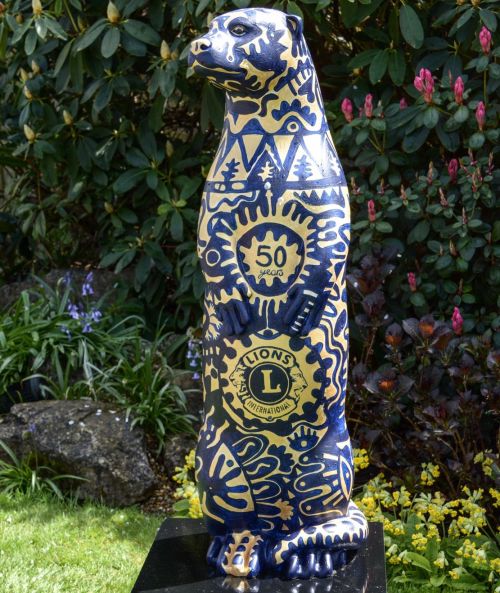 Farnham Carnival is looming and shaping up to be one of the best ever.....
Farnham Lions and our friends in the community, The Hedgehogs, as well as a few independent contributors are all hard at work to make the 2018 Farnham Carnival Parade and Fayre one of the best ever. The stalls in the Fayre are almost sold out and the parade is filling up fast, so if you have not signed up yet - now is the time to get on board. As always we also desperately need volunteers to help to marshall the parade. Its just three hours of your time from 5pm - 8pm on Saturday 30th June 2018 and you get the best possible views of the parade.... If you would like to sign up to help please just go to the Contact us page and let us know your details - we would be delighted to hear from you. For all details about carnival go to the separate Carnival website
Farnham Beerex 2018 - wow what a night .... or three
And of course also a fantastic Saturday lunchtime session in the blazing sun. Truly amazing beer this year - great job form the beer committee that was well appreciated by all that attended from the feedback we have received. Final clear up is almost complete and we just wanted to say a huge thanks to the army of volunteers, our fantastic customers, both old and new, and to all who worked so hard to make the 42nd annual Beerex another success. More to follow with 'Beer of the Festival', how much was raised for local charity so watch this space. I the meantime we will be uploading more pics very soon....
Pictures courtesy of David Fisher, Jon Evans and Michael Carrington of AFFCC
Project Wenceslas 2017/18 is almost complete!
Project Wenceslas 2017/18 is now almoist complete. We have raised well over £18,000 thanks to your generosity and almost all of this has already been distributed directkly to those in fuel debt and fuel poverty. For more details please click here.
Farnham Lions Summer Spectacular a Spectacular Success!
The Farnham Lions Summer Spectacular which was held on Saturday 8th July 2017 was felt by all to be a great success. The weather was kind to us, and the 680 guests had a great evening - due in no small part to the hours put in by the organising committee and the generosity of Robert and Tanya Lewis, who once again offered their site at Churt as a really wonderful venue.
Click here to go to the section with all the details.
Do you have you some time to spare? Looking to meet new friends in the area?
Why not become a Friend of Farnham Lions and help us with one or more of our many events and projects: Community Service, Fundraising, Beerex, Carnival - we can always use willing hands and you'll have a great time! If you missed out on our last friends awareness evening, or couldn't come along, and would like to know what went on please use the contact us tab above or send an email to phil.williams@farnhamlions.org.uk and we will happily add your name to the invitation list for the next one which will be held on 26th September 2018 at 7.00pm.











Have something you want to donate to charity?

Why not call the Lions Community Store who would be grateful for your support. They are always keen to hear from you and will collect anything they can re-use and provide benefit to those of in our community in need. Click here to go to the page with their contact details now or call 01252 616998.




A message from our President




I am proud to have been elected President of our enthusiastic and hard working club.
We have exciting times ahead of us with celebrations of 100 years of Lions world wide in 2017 and our own club's 50th year in 2018. So please do keep a watchful eye on our Website for future news.