Welcome to Farnham Lions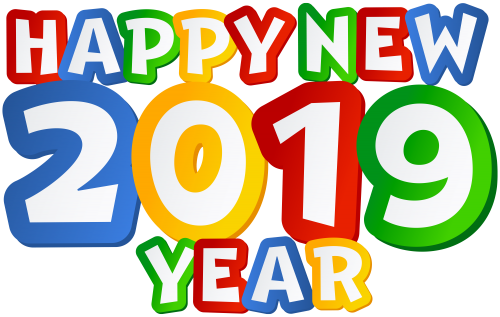 Welcome to our website - we hope that you will find the information that you are looking for but please contact us if you need anything else. We do welcome feedback that would make the site even more useful to those it is here to serve - you and our local community. We always have a lot on - so if you can't find something please just ask us on the 'Contact Us' page above.
Latest News - Project Wenceslas 2018-19 is launched
For more details of this superb annual project please click here

22nd Annual Golf Day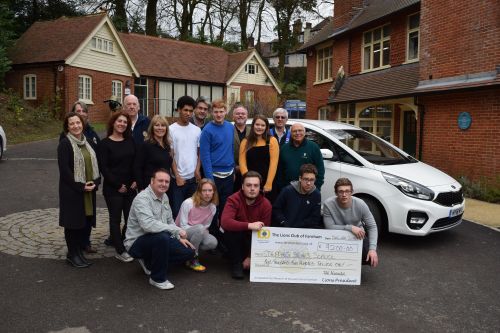 Members of the Farnham Lions along with Hindhead Golf Captains, Lesley Sullivan and Lorne Magory met at Stepping Stones School earlier today to present a cheque for £9200.00 raised by the Lions Club of Farnham Charity Golf Day. The money raised contributed to the purchase of a car which the school uses daily and has enabled post 16 initiative (employability) to access more employers for placements of their pupils across three counties.
Photographed are Phil Alexander, Farnham Lions President, Carl Taylor, the Chairperson of the Farnham Lions Golf Day, Lions Sally Ross and Geoff Jeal, Hindhead GC Captains Lorne Magory and Lesley Sullivan, Stepping Stones Staff members, Sharon Setterfield, Steve Grigsby, Stacey Morrin. Business Manager Isaac Xenitides and students Noah House, James Voake, Ollie Snow, Emily Rich, Georgina Stronge, Daniel Jindu and Charlie Forbes Nixon.
To date this event has raised £142847 to support selected local projects.
For information on the previous years Golf days please click here.
The money we raise continues long after the event to help those in need in our community. The 2017 Lions Club of Farnham Annual Golf Day raised £10000 in aid of the Peter Alliss Masters Charity which funds electric wheelchairs for young people. Katie Shute, a pupil at the Abbey School, Farnham was amongst nine children who attended an event on 20th September 2018, a year later, organised by PAMC to receive their individually designed wheelchairs from Peter Alliss personally. Katie along with her parents John and Andrea are photographed with Peter Alliss and members of the Farnham Lions Golf Committee.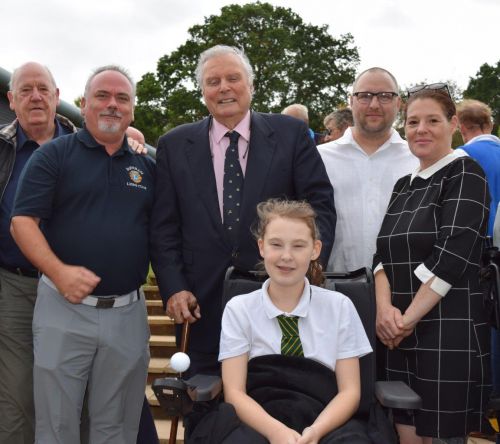 Farnham in Bloom and Farnham Lions
Farnham Lions are delighted to have again sponsored the flower bed in Gostrey Meadows surrounding the war memorial. This year the bedding both commemorates the centenary of the end of World War 1, and also celebrates the centenary of Lions Clubs International and 100 years of service to their local communities around the world.
The Otter Wey Trail
After many months work, all of the fabulous 44 otters that formed the Otter Wey Trail for the 2017-18 Farnham Town Council Mayor's charity, were gathered together and all appeared at Gostrey Fayre on Farnham Carnival day - Saturday 30th June. There was amazing interest in them and on Monday 9th July they were all taken to at Farnham Castle for a live auction hosted by the Castle, sponsored by Kidd Rapinet and conducted by Bonhams auctioneer Sholto Gilbertson. And after all the counting and a small top up from the Towns Xmas concert donations, on 18th September our Immediate Past Mayor Mike Hodge was delighted to present cheques totalling £30,000 to the two beneficiaries. A truly amazing total, and our thanks to all who contributed and made the project such a success.
If you haven't heard of the Otter Wey Trail take a look at the project - just Click here.
We are delighted to announce the winner of the Otter Wey Trail competition. The winner is George K (full name withheld). The otter was presented at the live auction on Monday 9th July. Farnham's Town Clerk has advised us that the Otter Wey trail had more entries than any other Farnham Trail in our towns history. A tribute we think to the quality of the work and our community.
We are also delighted to announce that the most popular community otter receiving more votes than any other at the Gostrey Fayre was Otter number 31, created and decorated by Folly Hill Infants School. This otter wins the title of "Best Community Otter."
The Farnham Lions Otter
We were delighted to introduce 'Lion L' celebrating not only our major work with and sponsorship of this fantastic community project, but also the 50 years of service that The Lions Club of Farnham has provided to our local community. Lion L was decorated and created by Georgina Ellis using the Lions logo colours of Blue and Gold. Thanks Georgina for a stunning piece of work.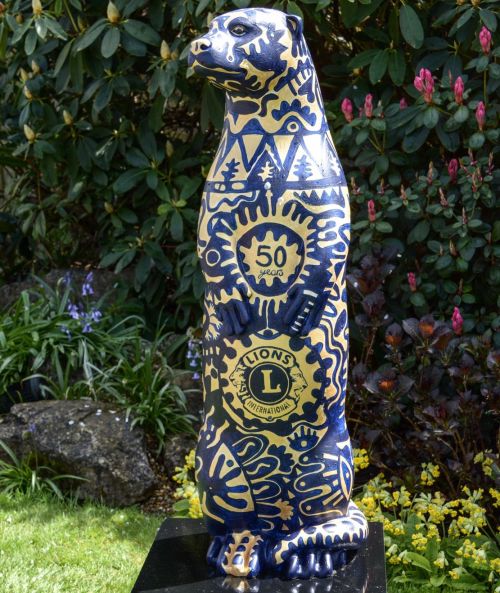 Farnham Carnival 2018 - one of the best ever.....
Farnham Lions and our friends in the community, The Hedgehogs, as well as a few independent contributors all worked incredibly hard to deliver the 2018 Farnham Carnival Parade and Fayre - and from the comments received one of the best ever. The stalls in the Fayre were sold out and the parade was excellent. As always we also desperately need volunteers to help to marshall the parade, so please if you enjoyed this year - get in touch and offer your support perhaps to help next year. Its just three hours of your time from 5pm - 8pm on Saturday 29th June 2019 and you get the best possible views of the parade.... If you would like to sign up to help please just go to the Contact us page and let us know your details - we would be delighted to hear from you. For all details about carnival go to the separate Carnival website. We will be updating photos and letting you know the theme for next year very soon once we are recovered from the weekend.
Farnham Beerex 2018 - wow what a night .... or three
And of course also a fantastic Saturday lunchtime session in the blazing sun. Truly amazing beer this year - great job form the beer committee that was well appreciated by all that attended from the feedback we have received. Final clear up is almost complete and we just wanted to say a huge thanks to the army of volunteers, our fantastic customers, both old and new, and to all who worked so hard to make the 42nd annual Beerex another success. More to follow with 'Beer of the Festival', how much was raised for local charity so watch this space. I the meantime we will be uploading more pics very soon....
Pictures courtesy of David Fisher, Jon Evans and Michael Carrington of AFFCC
Do you have yousome time to spare? Looking to meet new friends in the area?
Why not become a Lion, or a Friend of Farnham Lions, and help us with one or more of our many events and projects: Community Service, Fundraising, Beerex, Carnival - we can always use willing hands and you'll have a great time! If you missed out on our last friends awareness evening, or couldn't come along, and would like to know what went on please use the contact us tab above or send an email to sally.ross@farnhamlions.org.uk and we will happily add your name to the invitation list for the next one to be held soon.








Have something you want to donate to charity?

Why not call the Lions Community Store who would be grateful for your support. They are always keen to hear from you and will collect anything they can re-use and provide benefit to those of in our community in need. Click here to go to the page with their contact details now or call 01252 616998.




A message from our President Phil Alexander




I am proud to have been elected President of our enthusiastic and hard working club.
We have exciting times ahead of us with celebrations of 100 years of Lions world wide in 2018. So please do keep a watchful eye on our Website for future news and we welcome all to come and get involved in any of our community activities.