Welcome to Farnham Lions
Welcome to our website - we hope the above information is useful to you. Below you will find more posts of our normal activities, but they take second place to the current health pandemic above. Please stay safe and consider helping Lions help our community when this is over. If you are interested in what we do please contact us on the 'Contact Us' page above and we look forward to meeting you in the future.
IT' Initiative - 'Helping Learning'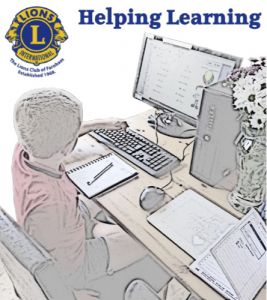 Since Lockdown commenced, local Lions Clubs have donated 400 PC's or Laptops and over 200 Monitors and other IT items to children in need of support with their schooling.
We still need more. If you can help, this is what we need:
We need PC's, Laptops, Flat Screen Monitors, Mice and Speakers that are in working order as well as, hard drives and cables
To donate:
Please send an email with a brief description / photo of the item(s) or your questions to:
We will respond and agree a time convenient to you for us collect from your doorstep.
The items should be: In good working order and presentable
- They will already be loaded with Windows Vista,7,8 or 10. We cannot use XP.
- Mac Books: Pro / Air and IMAC's
- Flat Screen Monitors.
- Mice, Sound Speakers and Webcams.


- PC's and Laptops with power adapters that are capable of running Windows 10.
- Chromebooks
- Tablets: Android and Ipads with cables and power adapters
- Memory Modules, Motherboards, Hard Drives, Graphics Cards, Keyboards
- Mice, Sound Speakers and Webcams.

More information look at https://www.youtube.com/watch
Lions extend a warm welcome
Farnham Town Council's 2020 Music in the Meadow has yet again been a great success. Farnham Lions were delighted to help out with marshalling at the event while members also had the chance to run the tea tent on some days to raise funds for local good causes. COVID-19 special measures and social distancing rules were in place throughout as per government advice.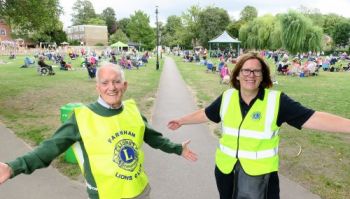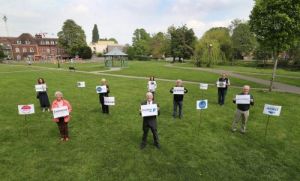 The Farnham Coronavirus Support Fund
As an organisation we are delighted to be working as a part of our community in supporting the Farnham Coronavirus Support Fund. The full details of the fund can be found on the Town council website by clicking here.
Farnham Lions were delighted to help Town Council reopen the Farmers market
Farnham Lions were delighted to help out Farnham Town council as they re opened the monthly farmers market on Sunday 24th May, with many special measures in place to adhere to all Government advice and social distancing rules during the COVID-19 crises. The market had a reduced umber of stalls to ensure distancing and a one way system in place with social distancing marks on the floor and limited capacity for stalls and shoppers, with numbers being counted upon entering the market, and monitored on exit so as to keep to guide lines. Members of Lions were there t5o ask the shoppers to sanitise their hands on entering and to offer a cuppa and invited customers to make a donation to the Farnham Coronavirus Support Fund (see above). To comply with social distancing Lions and their home spouses / partners manned the tea tent in pairs. It was great to hear so many appreciative comments from customers and may we say in return "Welcome Back."

Farnham Lions are helping to fulfil the requirement for computer equipment for children who are now schooling at home and lack the essential tools.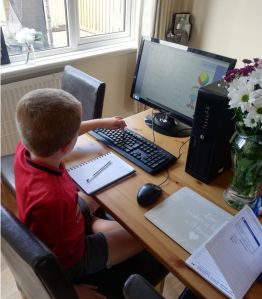 We were delighted to receive this photograph and a letter of appreciation from a thankful parent of one of the recipients showing her son doing his school work on a pc that had been fully refurbished by members of a local club, Fleet Lions. You can help a child by donating any unwanted pc's or laptops which will then be refurbished and re distributed to children in need. For more information please see the youtube video here

We are pleased to copy the Farnham and Villages Coronavirus helpline details below. These have been issued by Farnham Town Council and Farnham Maltings where the helpline is centred. They form the core of a community help initiative in Farnham and the surrounding viillages. If you wish to contact the helpline you can email as follows:
or if you nrun a group and want to volunteer to help organise the support please email:
organisers@farnhammaltings.com
Individual Lions members have already, or will be registering to help, but as an organisation we must respect that many of our members are themselves in the vulnerable category, or caring for relatives that are, so as an organistaion we are limited in what we can do whilst maintaining the government guidelines. We will do all we can and wish every member in our community the very best for the coming weeks. Stay Safe.
Lions add two more life savers ...
Earlier this month the ADF were delighted to site two new defibrillators, one on the outside wall of the Weydon Christian Centre in Upper Way and the second at the premises of A&D Car Care Services located on the Guildford Road Trading Estate. Both sites offer full public 24hr access seven days a week.For more details download the press release here

Defib.pdf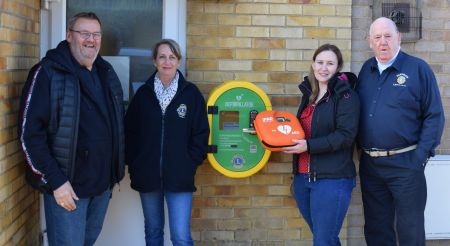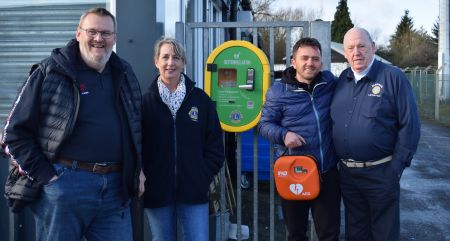 A 'Roaring' success...
On a cool December moring Pupils representing St. Peters, St. Polycarps, Rowledge, Waverley Abbey, and William Cobbett took part in the finals of the Lions 'Roar' competition held at the delightful Wakehurst Place, West Sussex. Roar is a creative learning project that is fun and about developing "new ideas that could change the world". This was the first year that the schools had entered the competition and started with many more children taking part at each school in teams of three. They produced great ideas as well as models, posters and a jingle to support their ideas. Each school then chose a winning idea and team to present their ideas alongside pupils from other schools in the South East of England.
The ideas emanating from the Farnham Schools were creative, very well presented and all worthy of winning but this time it was not to be as the judges awarded the top prize to Burpham School who proposed a 'translator' capable of converting sign language into words and vice versa as the winning idea. Farnham Lion, Phil Williams said: "The members of the Farnham Lions are delighted to have been involved with each of the schools on this project and to have seen the fantastic work produced by the children and staff at each school. Our thanks go all involved.
Another fantastic Xmas food parcel collection....
This year's annual Farnham Lions food collection resulted in over 290 bags stuffed full of assorted items which have been distributed to local agencies who in turn ensure that the bags with those most in need. At the start of December, the Lions distributed leaflets and bags to nearly 1,800 homes in the hope that residents would donate some items of food for those in real need: and hundreds of you did. Those bags were collected the following Sunday, sorted and packed into bags suitabkle for single families, small families and larger families. Each bag contained a combination of basic and essential items as well as Xmas treats.
The Lions would like to thank all the households who were kind enough to make a donation and to all those that helped the Lions collect and sort through the thousands of items. Farnham is a truly wonderful community, Happy Christmas everyone.
Project Wenceslas 2019-2020 is in full swing...almost £17,000 to date


We are delighted the incredible support so far for Project Wenceslas 2019-2020. This vital project raises much needed funds to help minimise or hopefully eradicate fuel poverty in Farnham and the surronding area. For full details of how you can become involved please click here.....
Congratulations Roger - 50 years of service...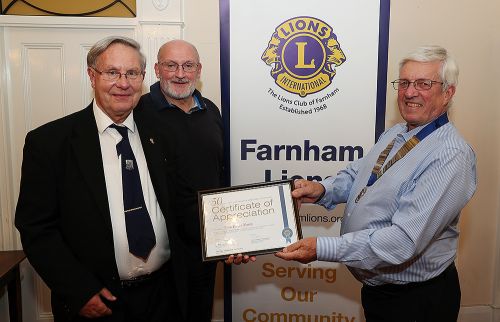 Lions Roger Booth was presented a certificate of appreciation for an anmazing 50 years of service as a Lion to his local community. At a dinner at Kai's restaurant in Runfold, Lions President Phil Alexander presented the certificate to Roger who was accompanied by his wife Barbara. Also pictured is Lion David Riley, who is one of our newest members having joined just this year and who is looking forward to his own community service. From 0 to 50 captured in one photograph!
23rd Annual Golf Day - The Sun shone yet again...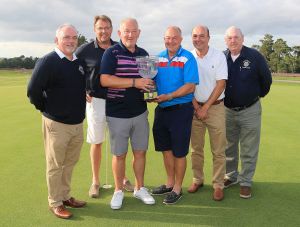 The 23rd Annual Golf day run by Farnham Lions at Hindhead Golf club, in aid of Shooting Star Childrens Hospices this year, basked in the glorious sun again. We are delighted to confirm we made £6900 but please click here for full details.

Help for Heroes Event - 10th August 2019
The Lions Club of Farnham worked incredibly hard together with Robert & Tanya Lewis to stage the 4th bi-annual motoring enthusiasts event at their private museum near Churt, Surrey in what can only be described as pretty horrible winds and storms and we are delighted that so many of those that had tickets turned out and brought their superb cars to add to the museum display. We had over 1000 cars on the fields including the public car parks and the event was, we hope you agree, a real success. The total raised on the day was well over £90,000, a fantastic total bearing in mind the abismal weather. We would like to thanks all who came, sponsored, donated, or purchased items on the day, really much appreciated and your money will be put to a great cause.
Heartstart Farnham Lions: Walking from strength to strength
On Sunday 2nd June 2019, the final day of this year's very successful Farnham Walking Festival, sixty people took part in the Farnham Lions Heartstart walks. Three groups of walkers set off from Gostrey Meadow and walked along the main roads of and into Farnham Town Centre to highlight the need for more Defibrillators in Farnham and better signage for those that already exist. The walks, which were also in memory of Farnham Lion Keith Aston who had worked so hard to develop Heartstart Farnham Lions, ended back at Gostrey Meadow where the walkers and many others enjoyed 'Music in the Meadow' and were able to enjoy a tea or coffee and a wide selection of cakes at the Farnham Town Council Tea Tent manned by members of the Farnham Lions and the Heartstart team. There was also a Heartstart display where visitors were able to experience how to use a Defibrillator.
Ever wondered where all the money you help us raise really goes......
.....well just CLICK ON THE LINK HERE to find out just how diverse and broad our contribution to the community really is. This is of course in addition to the major project contributions where we run an event specifically for one or two local causes. If you would like to help us either raise more, or help in the disbursement in the community then please contact sally.ross@farnhamlions.org.uk
Beerex 2019
What a fantastic weekend opened by our very own Town Mayor, Cllr David Attfield on Thutrsday 11th April 2019. Our thanks to all our customers, volunteers and helpers, to quote just a few:
"I had guests on both the Thursday and Friday nights and they all thought that this was one of the best Beerex events – so well done all!" from GN

"This just gets better every year - thanks for a great event again, and The Nefarious Picaroons on Thursday were really awesome - great night" from BH
In case you missed the dates for 2020 - its 23rd to 25th April 2010, get the dates in your diary now, and please remember as announced all tickets will be sold online for 2020, so watch out on the website in late 2019 early 2020 or send your email now to beerexpr@farnhamlions.org.uk with a note to add you to our emailing list for Beerex tickets.
And if you missed 2019 Beerex - take a look here at what you missed on this fantastic video.
A message from our new President Sally Ross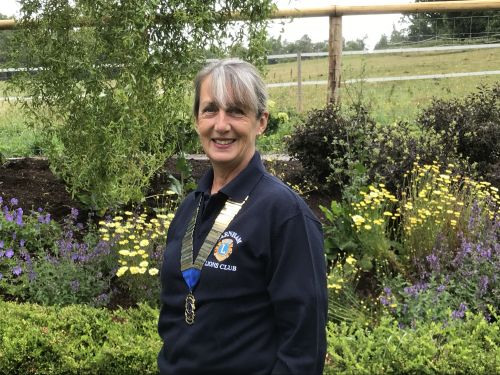 This year we welcome Sally Ross as our President and Sally has said "I am honoured to be President of Farnham Lions at a time when our motto "where there's a need there's a Lion" has never been more relevant. There are challenging times ahead, but Lions will always be there for those in need in the Community."
We are always looking for volunteers as well to help run this huge annual event, and if you would like to help in 2020, please download a volunteer pack by going to our supporters page.
Do you have some time to spare? Looking to meet new friends in the area?
Why not become a Lion, or a Friend of Farnham Lions, and help us with one or more of our many events and projects: Community Service, Fundraising, Beerex, Carnival - we can always use willing hands and you'll have a great time! If you missed out on our last friends awareness evening, or couldn't come along, and would like to know what went on please use the contact us tab above or send an email to peter.matthews@farnhamlions.org.uk and we will happily add your name to the invitation list for the next one to be held soon.
Have something you want to donate to charity?
Why not call the Lions Community Store who would be grateful for your support. They are always keen to hear from you and will collect anything they can re-use and provide benefit to those of in our community in need. Click here to go to the page with their contact details now or call 01252 616998.