Welcome to Farnham Lions
Welcome to our website - we hope that you will find the information that you are looking for but please contact us if you need anything else. We do welcome feedback that would make the site even more useful to those it is here to serve - you and our local community. We always have a lot on - so if you can't find something please just ask us on the 'Contact Us' page above.
Project Wenceslas 2019-2020 is launched...


We are delighted to announce the launch of Project Wenceslas 2019-2020. This vital project raises much needed funds to help minimise or hopefully eradicate fuel poverty in farnham and the surronding area. For full details of how you can become involved please click here.....
Congratulations Roger - 50 years of service...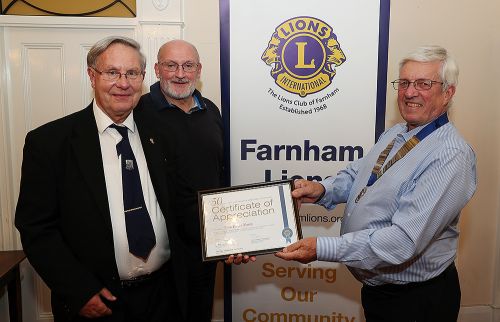 Lions Roger Booth was presented a certificate of appreciation for an anmazing 50 years of service as a Lion to his local community. At a dinner at Kai's restaurant in Runfold, Lions President Phil Alexander presented the certificate to Roger who was accompanied by his wife Barbara. Also pictured is Lion David Riley, who is one of our newest members having joined just this year and who is looking forward to his own community service. From 0 to 50 captured in one photograph!
23rd Annual Golf Day - The Sun shone yet again...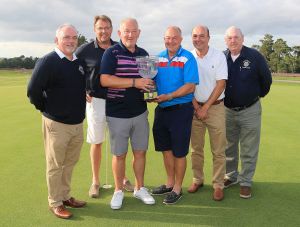 The 23rd Annual Golf day run by Farnham Lions at Hindhead Golf club, in aid of Shooting Star Childrens Hospices this year, basked in the glorious sun again. We are delighted to confirm we made £6900 but please click here for full details.

Help for Heroes Event - 10th August 2019
The Lions Club of Farnham worked incredibly hard together with Robert & Tanya Lewis to stage the 4th bi-annual motoring enthusiasts event at their private museum near Churt, Surrey in what can only be described as pretty horrible winds and storms and we are delighted that so many of those that had tickets turned out and brought their superb cars to add to the museum display. We had over 1000 cars on the fields including the public car parks and the event was, we hope you agree, a real success. The total raised on the day was well over £90,000, a fantastic total bearing in mind the abismal weather. We would like to thanks all who came, sponsored, donated, or purchased items on the day, really much appreciated and your money will be put to a great cause.
Heartstart Farnham Lions: Walking from strength to strength
On Sunday 2nd June, the final day of this year's very successful Farnham Walking Festival, sixty people took part in the Farnham Lions Heartstart walks. Three groups of walkers set off from Gostrey Meadow and walked along the main roads of and into Farnham Town Centre to highlight the need for more Defibrillators in Farnham and better signage for those that already exist. The walks, which were also in memory of Farnham Lion Keith Aston who had worked so hard to develop Heartstart Farnham Lions, ended back at Gostrey Meadow where the walkers and many others enjoyed 'Music in the Meadow' and were able to enjoy a tea or coffee and a wide selection of cakes at the Farnham Town Council Tea Tent manned by members of the Farnham Lions and the Heartstart team. There was also a Heartstart display where visitors were able to experience how to use a Defibrillator.
Ever wondered where all the money you help us raise really goes......
.....well just CLICK ON THE LINK HERE to find out just how diverse and broad our contribution to the community really is. This is of course in addition to the major project contributions where we run an event specifically for one or two local causes. If you would like to help us either raise more, or help in the disbursement in the community then please contact sally.ross@farnhamlions.org.uk
Beerex 2019
What a fantastic weekend opened by our very own Town Mayor, Cllr David Attfield on Thutrsday 11th April 2019. Our thanks to all our customers, volunteers and helpers, to quote just a few:
"I had guests on both the Thursday and Friday nights and they all thought that this was one of the best Beerex events – so well done all!" from GN

"This just gets better every year - thanks for a great event again, and The Nefarious Picaroons on Thursday were really awesome - great night" from BH
In case you missed the dates for 2020 - its 23rd to 25th April 2010, get the dates in your diary now, and please remember as announced all tickets will be sold online for 2020, so watch out on the website in late 2019 early 2020 or send your email now to beerexpr@farnhamlions.org.uk with a note to add you to our emailing list for Beerex tickets.
And if you missed 2019 Beerex - take a look here at what you missed on this fantastic video.
We are always looking for volunteers as well to help run this huge annual event, and if you would like to help in 2020, please download a volunteer pack by going to our supporters page.
Thanks to all those who offered support at the Refreshers fair.
Farnham Lions displayed a range of their recent activities, from Farnham Lions
Heartstart to the Otter Wey Trail and Summer Spectacular to future plans with
the 43rd Farnham Beerex, Farnham Carnival, the Help 4 Heroes event in Churt
and our 23rd Annual Golf Day. We were delighted with the interest of the Fair
attendees, with many signing up both to receive the regular newsletter, and
joining the "Friends of Farnham Lions" as helpers at carnival, Beerex and other
events on an Ad Hoc basis. Anyone unable to make the Fair itself can still find out
more, register for the "Friends" or receive the newsletter - juts ask at tellmemore@farnhamlions.org.uk.
Do you have some time to spare? Looking to meet new friends in the area?
Why not become a Lion, or a Friend of Farnham Lions, and help us with one or more of our many events and projects: Community Service, Fundraising, Beerex, Carnival - we can always use willing hands and you'll have a great time! If you missed out on our last friends awareness evening, or couldn't come along, and would like to know what went on please use the contact us tab above or send an email to sally.ross@farnhamlions.org.uk and we will happily add your name to the invitation list for the next one to be held soon.








Have something you want to donate to charity?

Why not call the Lions Community Store who would be grateful for your support. They are always keen to hear from you and will collect anything they can re-use and provide benefit to those of in our community in need. Click here to go to the page with their contact details now or call 01252 616998.




A message from our President Phil Alexander




I am proud to have been elected President of our enthusiastic and hard working club.
We have exciting times ahead of us and with the celebrations of 100 years of Lions world wide behind us in 2018, we look forward to another 100 years. So please do keep a watchful eye on our Website for future news and we welcome all to come and get involved in any of our community activities.