Monthly Club Dinner Meetings
Our monthly Dinner Meetings, although classed as "business" meetings, are held at local hostelries and offer a regular opportunity for more light hearted chat and, of course, good food and drink.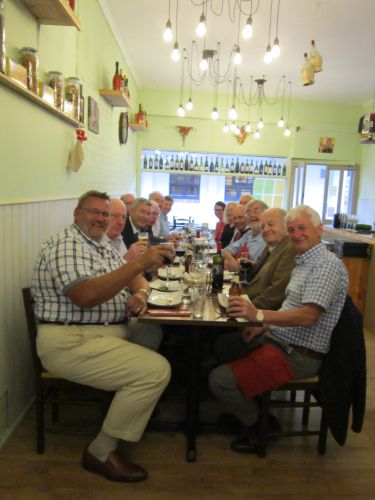 Regular dinners take place on the Second Tuesday of the month. The regular dinner meetings are at a local, normally town based restaurant such as Cafe Piccolo, The Bishops Table, Da Massimo or Heavens Kitchen; once a quarter instead it is a partners' dinner, as the title suggests when our partners join us, and we tend to vary the location and move around the town and its surrounding villages. Recent venues have included The Woolpack at Elstead, Brasserie Blanc and The Army Golf Club to name but three.
The 2018/19 Social Committee is chaired by Emma Cole who welcomes any ideas for new, fun and interesting social activities to review, plan and introduce to the club. Most recently we visited the wind tunnels at Farnborough which was really an amazing afternoon.