Otter Wey Trail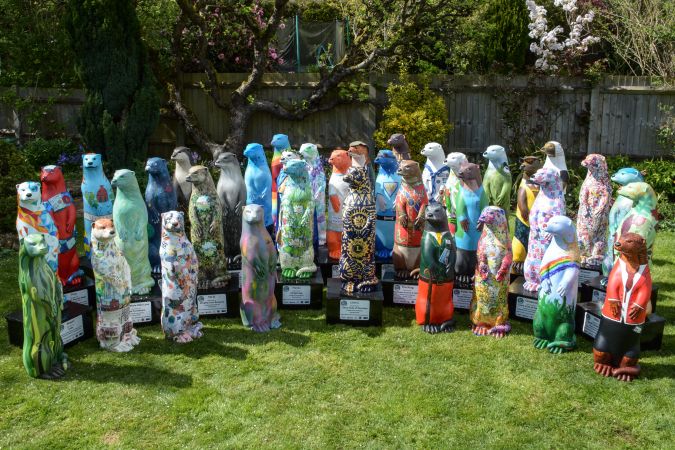 'The Otters gathered before setting out on the trail'
The vast majority of pictures on this page are courtesy of David Fisher from the AFFCC.
The forty four otter statues that formed the Otter Wey Trail and were on display both in various locations around Farnham during May and June 2018 and at Farnham Castle on Monday 9th July were auctioned by Bonhams and all proceeds, over £28,000 have now been given to the 2017-18 Farnham Town Mayor's Charity.
All the otters that have gone to their new homes are listed below, and were all lovingly designed and decorated by a wide range of participants in the project who live in the community, including professional artists, community groups, schools and individuals. There were community otters created by schools, groups and other commercial organisations in and around the town adding to the group. The project, inspired by the Farnham 2017/18 Mayor Cllr Mike Hodge, with creative support from Jo Alywin, and managed by Farnham Lions has proved very popular amongst residents and visitors to Farnham, and overachieved its two primary objectives, it was a fantastic community art project for all, and it raised an amazing amount for the Mayors Charities which were The Woodlarks Centre and Brightwells Gostrey Community Centre.
Well done Farnham!
Otter Number 1
Created and Decorated by Janet & Isobel Drummond
and
Sponsored by Farnham in Bloom

'Our otter was painted by Janet Drummond of the Farnham in Bloom Community group with her daughter Isobel. It is painted with beautiful sunflowers, which are synonymous with Farnham in Bloom as part of the official logo design. Farnham in Bloom is now in its 28th year and is all about making Farnham an attractive place to live, work and visit; filling it with flowers and keeping the surrounding villages looking their best. At the heart of Farnham in Bloom is community working together with Farnham Town Council to improve the town with the support of local businesses and organisations who sponsor the initiative."
Lara Miller - FTC




THIS OTTER WAS PURCHASED OUTRIGHT AND WILL NOT BE AVAILABLE FOR AUCTION

Otter Number 2
Created and Decorated by Girlguiding Farnham Division
and
Sponsored by South Street Trust

"Lord Robert Baden-Powell was the founder of Scouting and Girl Guides, and his wife helped develop GirlGuiding into how we know it today. Our otter shoes the badges that current Rainbows, Brownies, Guides and members of The Senior Section can earn, as well as fun badges from other events. Our Promise shows the commitment that each member makes to doing her best. It also links us to other Girlguiding members and the ten million people involved in guiding across the world. Olave Baden-Powell was also known as the Otter woman following a trip to Canada in 1935."
Kirsten

Was sold for £200
Otter Number 27
Created and Decorated by Keith McKenzie for Tice's Meadow Bird Group
and
Sponsored by South Street Trust

"The Tice's Meadow Otter features a scene from Tice's Meadow of the silhouettes of the bird watchers' telescopes, set-up on Horton's Mound, with a flock of Golden Plover flying high over their heads. Golden Plover are an iconic species of wading birds that can be seen at Tice's Meadow most winters - flocks in the thousands used to be a common sight, but sadly their numbers are declining."
Mark - Tice's Meadow Bird Group

Was sold for £350

Otter Number 11
Created and Decorated by Evi Carr -Barney
and
Sponsored by The Hedgehogs


"I like textures and I built up layers with acrylics. I wanted to link the otter to global warming and how global warming affects animals so I produced the melting effect, with layers building up at the bottom."
From an interview with Evi Carr-Barney


Was sold for £2000

Otter Number 13
Created and Decorated by Farnham Heath End School
and
Sponsored by The Hedgehogs

"Our otter was designed and painted by some of our talented Year 10 students, together with Year 7 Art Club students. Inspiration came from Farnham's wonderful natural environment. Our students know that they are lucky to be surrounded by fields, trees and animals and wanted to celebrate this and keep it as a focus for ensuring its care and protection in the future"
Jane Overton - Head of Art

Was sold for £270

Otter Number 3
Created and Decorated by Rachel Whithead & Katie Rath
Sponsored by Farnham Pottery

"Harris Pottery was founded Farnham Pottery in 1872 and today it is a thriving making centre for over 400 artists. Our otter is inspired by the handmade bricks that were made on site from the Farnham clay, the potters typical victorian attire and the playful nature of the otter in its natural habitat."
Guy Hains - The Farnham Pottery


Was sold for £510


Otter Number 4
Created and Decorated by Weydon School Year 9 Art Students
and
Sponsored by The Lions Club of Farnham

"The Weydon School Otter was designed by our lovely Year 9 Art students who thought it would be wonderful to represent the entire school. They created the design using the beautiful work that our students have created and the work represents all of our subject areas across the varied Weydon curriculum.'
Tina Male - Curriculum Leader - Art

Was sold for £80



Otter Number 5
Created and Decorated by Georgina Ellis
and
Sponsored by The Lions Club of Farnham

"Our Otter celebrates not only our work and sponsorship of this fantastic community project, but also the 50 years of service that The Lions Club of Farnham has provided to our local community."

Was sold for £550


Otter Number 7
Created and Decorated by Time Out Youth Club
and
Sponsored by South Street Trust

"Our otter was designed by Time Out, a youth club of 11-16 year olds. They chose a super hero theme thinking about the different super powers that super heroes have, recognising that super heroes have the ability to do things and make a difference, and that there is a super hero in everybody."
Becky Speyer - Youth Co-ordinator

Was sold for £115

Otter Number 6
Created and Decorated by St. Andrew's Infant School, Robin, Owl and Kingfisher classes
and
Sponsored by Farnham Round Table

"The whole school got involved with our otter. Year R, Robins, started by painting the otter St. Andrew's blue. Years 1 and 2, Owls and Kingfishers, drew, coloured and cut out flower pictures out of garden magazines and arranged them by colours. the flowers were then glued in colour bands onto the otter. The name suggestions were made by the whole school but the final decision was made by the Eco council, whose choice reflects the decoration. the children were very proud of their work."

Shirley Watson

Was sold for £201

Otter Number 20
Created and Decorated by Pupils of Badshot Lea Infants School
and
Sponsored by The Hedgehogs

"Our otter was designed by the children of Badshot Lea Village Infant School and features illustrations for each of our classes; Sky Class, Mars Class, Sun Class, rainbow Class and Star Class. Every one of the 145 children contributed to the decoration and has loved being a part of the Otter Wey project."

Gemma Ball - Headteacher



THIS OTTER WAS VANDALISED. HIS REPLACEMENT WILL BE DONATED TO BADSHOT LEA INFANTS SCHOOL AND WILL NOT BE AVAILABLE FOR AUCTION

Otter Number 34
Created and Decorated by Laura Harrison, and pupils at St. Peter's School and Laura Harrison Lowndes
and
Sponsored by TechMarketView LLP

"The design for our St. Peter's School otter was led by artist and parent Laura Harrison Lowndes. Laura worked alongside a design team of year 5 children to lead the project. As a church school we wanted to incorporate St. Peter who was a fisherman and also consider the theme of otters returning to Farnham eating fresh water chub. All children participated in the design, decorating tissue paper fish with gold and silver markings."



THIS OTTER WAS PURCHASED OUTRIGHT AND WILL NOT BE AVAILABLE FOR AUCTION

Otter Number 28
Created and Decorated by Elizabeth Bagnall & St Peter's Church Community Groups
and
Sponsored by South Street Trust

"Our otter was designed by Elizabeth Bagnall who set out to represent the main features of the village of Wrecclesham. The owl on his head is the symbol of Wrecclesham and the design includes the famous Pottery, the church (with St. Peter's keys), Weydon and St. Peter's schools, the various sports clubs and the hop-fields that used to surround the village."
Christopher Ellis

Was sold for £175

Otter Number 8
Created and Decorated by Charles Bone, PPRI
and
Sponsored by Wrights Lions Brewery

"Charles has created a real Farnham Otter. With a life like face and a body trailed with Hop Vines, a traditional Farnham industry, he has then interspersed the hops with panels featuring famous landmarks such as Farnham Castle, Waverley Abbey and our most famous historical resident - William Cobbett"


Was sold for £1300

Otter Number 9
Created and Decorated by Jane Allmark and 'The Gostrey Crowd'
and
Sponsored by South Street Trust

"Our otter was painted by clients attending Brightwells Gostrey Centre under the tutelage of Jane Allmark. The theme of flowers was partly inspired by the fact that many of those taking part had enjoyed the joys of flower power and the age of Aquarian optimism as young adults. The work was carried out during several of the activity sessions which run every weekday."
Stewart Dakers - Brightwells Gostrey Centre.


Was sold for £360

Otter Number 10
Created and Decorated by Carter Harvey, Panther Class
and
Sponsored by South Street Trust

'We decided to call our otter after the name of our school. There was a school competition, to choose the design, and mine won. I gave it a smart, but casual, look with green and blue to complement each other. My friends and I had a great time painting it.!
Carter Harvey Year 5


Was sold for £135

Otter Number 12
Created and Decorated by Sophie Knight
and
Sponsored by Pullingers Art Shop & Pebeo

"His Royal Majesty, our otter is the King of the waterways, breaker of pebbles and devourer of many a fish. He has been designed, painted and created by Pullingers Arty Shop Artist, Sophie Knight. Sophie has worked on many projects using Pebeo's vast range of exciting and versatile products and has brought many of them together to produce this very stunning regal character. Just wait until you see him with his cloak and crown!"
Angie Watson - Pullingers

Was sold for £1100



Otter Number 14
Created and Decorated by Oliver Barnes & Rosie Chaplin
and
Sponsored by The Farnham Herald

"The Herald's 'cheeky schoolboy' otter was designed by a 10 years old St. Polycarp's pupil, Oliver Barnes who was winner of the paper's 'Jot an Otter' competition, and the otter was painted by Rosie Chaplin. It is inspired by the colours of Olivers current school and the blazers of All Hallows, where he will begin secondary school in September. We wish him well."
Daniel Gee - Chief Reporter Farnham Herald


Was sold for £235

Otter Number 19
Created and Decorated by Bob Milton for the Macular Society
and
Sponsored by South Street Trust

"Macular degeneration is one of the largest reasons for sight loss in the UK. The Macular Society provides information and support to those people with this diagnosis. We have a support group that meets monthly in Farnham and to help publicise this group we have painted an otter with the help of local artist Bob Milton. The design was suggested by group leader Wally Blowes, and our otter is dressed in the Society's colours, and wears dark glasses and a Macular Society badge. He now sits proudly in Farnham Town centre. "
Stella Black - Macular Society


Was sold for £225

Otter Number 15
Created and Decorated by St. Mary's School Frensham
and
Sponsored by Bills Restaurant

"Our otter is sponsored by Bill's Restaurant. He reflects the seasonal fresh fruit and vegetable ethos of Bill's Restaurants. He was decorated by the staff and children of St. Mary's Infant School, Frensham, who had great fun thinking what vegetables to paint and how to place them. "
Sharon - St. Marys C of E Infant School


Was sold for £125

Otter Number 18
Created and Decorated by Susie Lidstone
and
Sponsored by the Hedgehogs


Professional artist Susie Lidstone was sponsored by The Hedgehogs. The design was really left to Susie and is painted in acrylic. "I wanted the otter to reflect the natural world but with the mass of detailed flowers that encompass my trademark approach. I knew that Waterlilies and the river would form a central core then I painted the flowers that have a special meaning and painting the grass he sits on was a real challenge to make it look realistic."
Susie Lidstone


Was sold for £800

Otter Number 17
Created and Decorated by Diana Ashcroft, Susie Blackwood, Alison Bunton & June Trantom
and
Sponsored by South Street Trust

"Farnham ASSIST supports the older residents in town living on their own (over 60's), who may otherwise become lonely and isolated. The name of our otter literally means Gods Protector. The staff and volunteers at Farnham ASSIST strive to show this protection through the work we do, by giving love and care to those that are at the latter part of their life and finding themselves on their own and lacking confidence. Our otter holds our event diary under his arm, which has the social activities that we run throughout the year."
Susie Blackwood - Farnham ASSIST


Was sold for £110

Otter Number 21
Created and Decorated by Peter Paterson
and
Sponsored by Andrew Lodge Estate Agents

"Andrew Lodge Estate Agents are proud to present their beautifully painted otter in aid of our Farnham town mayor's charity. In conjunction with our artist, Peter Paterson, we discussed the project and design. With our thoughts in mind Peter has produced a naturally coloured otter incorporating the famous Lion and Lamb design. Peter has sensitively colour painted the otter along with some meadow flowers to give the otter a fine and balanced view of our attractive town."
Andrew Lodge - Andrew Lodge Estate Agents


Was sold for £300

Otter Number 22
Created and Decorated by staff and children at Change of Scene
and
Sponsored by Cello Health

"The 'Change of Scene's' otter is a colourful character, inspired by the colours of our sponsors, Cello Health, logo. Although the children found the precise nature of the design and use of the acrylic paints somewhat challenging they participated passionately with the painting and literally got stuck-in to applying the sequins"
Sue Weaver - Change of Scene


Was sold for £500

Otter Number 24
Created and Decorated by Tudor Morgan on behalf of Phyllis Tuckwell
and
Sponsored by Main Training

"Remember your loved one at Memory Meadow" was just one hospice event but this gave Tudor Williams inspiration for this art piece. Wild flowers and grasses being the main part of the design, leading to patients, families, staff and volunteers holding hands in front of the Farnham Hospice and a portrait of Phyllis Tuckwell herself. The otter also has a realistic face with whiskers made from Tudor's own hairbrush!
Main Training


Was sold for £250

Otter Number 25
Created and Decorated by Bob Milton
and
Sponsored by Baker Law LLP

"Baker Law are delighted to introduce our legal otter for the Otter Wey Trail. We decided to create our judge character to reflect not only our business as Solicitors but also as otters are often used to symbolise friendliness, a quality we hold in high importance in being approachable as Solicitors."
Jo Godden - Consortium Business Solutions


Was sold for £200

Otter Number 26
Created and Decorated by Pupils of William Cobbett Primary School
and
Sponsored by South Street Trust

"All the children from William Cobbett Primary School were set an otter art homework task. There were so many wonderful otter designs that all the best bits from a variety of otters were amalgamated to create our final look. We then used templates from the children's drawings to stencil on the colourful images from which our otter was born"
Emily Jenkins - William Cobbett Primary School


Was sold for £250

Otter Number 37
Created and Decorated by Barfield School Art Department
and
Sponsored by Hawthorns

"Our otter has been decorated as British racing driver 'Mike Hawthorn' who not only lived in Farnham but whose family owned the Tourist Trophy Garage in the town. He was a pupil at Barfield School and became the UK's 1st Formula One World Champion in 1958."
Sandie - Hawthorns Enginbeering

Was sold for £300

Otter Number 44
Created and Decorated by St. Joan's Youth Club & Jo Aylwin
and
Sponsored by South Street Trust

"The otter has been decorated in the style of 'St. Joan of Arc' (the warrior Saint) in order to depict the connection between St. Joan's Youth Club and St. Joan of Arc's Catholic Church, Farnham."
Clive De Moraes


Was sold for £300

Otter Number 38
Created and Decorated by Graham Mollart & the children of St. Polycarp's School
and
Sponsored by Farnham Round Table

"The design for our otter was originally suggested by our artist Graham Mollart; it was then hones and executed by a group of children from years 1-6. St. Polycarp's school colours are red and blue so the reception and year 1 children gave him a rather dashing red base coat. This was followed by the older children creating a blue stripe curling up from his tail to the top of his head. Graham suggested a blue stripe as a representation of the River Wey, which runs through Farnham. The children began to collage the stripe using pictures they drew of their favourite things about St. Polycarp's. They then filled in the gaps with blue paper in a variety of textures and tones. Some of the children then carefully cut out tiny silver shapes to highlight his face and really bring him to life. All of the children greatly enjoyed the experience!"
Rebecca Pressner - St. Polycarp's School


Was sold for £70

Otter Number 39
Created and Decorated by Years 1 & 2, South Farnham Infants School
and
Sponsored by South Street Trust

"The children decided upon a solar system theme to link in with the passing of the great Professor Stephen Hawking"
Stella - South Farnham

Was sold for £500

Otter Number 40
Created and Decorated by Years 3,4 &5, South Farnham Junior School
and
Sponsored by South Street Trust

"The children had seen the rainforest design projected on to the facade of Buckingham Palace as part of a global conservation initiative led by Queen Elizabeth II. As such they decided they would like to paint a similar design onto our otter. Golds and Bronzes were also added to highlight the leaves glistening through the canopy."
Stella - South Farnham


Was sold for £150

Otter Number 41
Created and Decorated by The Abbey School
and
Sponsored by The Hedgehogs

"Our otter design has been inspired by the graffiti artist Banksy. Banksy uses stencil art that sends a message to society. Our otter's message is anti-prejudice. Society can sometimes group people with disabilities into one group but we want our otter to send the message that we are all individuals. If you look at the stencilled otters, they are all different, they are individuals, just like us!"
Sharon Smith - Abbey School


Was sold for £300

Otter Number 43
Created and Decorated by Liberty Hands, Elsa Ray-Iliffe and Amber Hamilton from Farnham 6th Form College
and
Sponsored by The Lions Club of Farnham

"The design from Farnham College is intended to mirror the environment of the otter in order to view the surroundings of the riverbank from a low angle through the woven reeds and grasses. The physical experiences of the otter becomes a form of camouflage as a type of protection. This also emphasises the important interaction between the otter and nature. The lush greens reflect the vitality of the vegetation as the area rejuvenates."
Julian Thompson Head of Art Farnham College

Was sold for £500

Otter Number 42
Created and Decorated by the Ridgeway School
and
Sponsored by B & N Carpets

"The Ridgeway Otter was a collaborative piece created by all of the pupils in the school. It is a design that was decided upon by the staff to ensure the inclusion of every pupil and demonstrate the true sense of community within the school."
Antonia Gaul - Ridgeway School


Was sold for £70

Otter Number 16
Created and Decorated by Buzz Youth Club
and
Sponsored by South Street Trust

"Our otter was designed by Buzz Club, a youth club for 8-11 year olds. The rainbow theme represents happiness and team work, combining aspects of individual designs into one group potter. The rainbow also embodies the fun and colourful nature of the young people who attend Buzz Club."
Becky Speyer - Youth Co-ordinator


Was sold for £150

Otter Number 30
Created and Decorated by Tessa Harmer (Yr 3) & Waverley Abbey School Eco Team
and
Sponsored by South Street Trust

'Being keen to help our pupils develop an understanding of the world in which they live, one important aspect is learning the part we play in nurturing the worlds eco system. Our Eco team led this project and saw it as a way to highlight the misuse of plastic. We held a competition with each class choosing their best design and name. The winner was Tessa. We hope it will remind everyone who sees it of the importance of recycling and reducing waste.


Was sold for £275

Otter Number 31
Created and Decorated by Folly Hill Infants School
and
Sponsored by Farnham Round Table

"We wanted every child in the school to be involved in creating our otter. By using Jackson Pollack as our inspiration, we had an art morning where each child dripped, splashed, and splattered the otter. Choosing his name was also a collaborative affair with the children suggesting names and the winner being drawn from a hat."
Emma Mann - School Office.


Was Voted Best Community Otter by the public and donated to the school.



Otter Number 32
Created and Decorated by Simply Unique Art Studio at Bells Piece
and
Sponsored by Care Farnham

"Our otter rejoices in a simple name that references the 'Simply Unique Art Studio' at Bells Piece. We are a charity working with adults with learning disability. The design 'Urban to Nature' features some of the iconic buildings in Farnham and the Flora and Fauna in and around the river Wey. The decoration is composed of transfers, created from original works of art, made by 24 of our artists."

Tina Vlok - Bells Piece Day Service


Was sold for £250

Otter Number 33
Created and Decorated by Gill Jenkins and The Woodlarks Centre
and
Sponsored by South Street Trust

"Our otter has been painted and decorated with the help of patients, staff and a volunteer Gill Jenkins. We tried to include our logo in the design, two dancing figures, which represents our motto 'Helping people build for the future.' The project has enabled many groups within the Farnham community to express their artistic talents."
Julie West - The Woodlarks Centre

Was sold for £420



Otter Number 35
Created and Decorated by Abbeyfield Wey Valley Residents Society
and
Sponsored by Lions Club of Farnham

"We chose a design for our otter which would enable as many of our staff and residents who wished to decorate him to get involved. We selected patterned paper that had plenty of bright colours so our residents with visual impairments and dementia could see a clear contrast in the patterns and be able to chose which squares they would like to stick on the otter."
Tracey Pollard - Wellbeing Manager

Was sold for £100

Otter Number 36
Created and Decorated by Courtney & Charlie, Georgina Ellis & The Wey Station for 40 Degreez
and
Sponsored by South Street Trust

"The idea of creating our otter came from the 40 Degreez centre youth team and young people who attend the Friday evening Health Hub sessions at the centre, 'It was a wizard idea", Youth Leader Simon said. The design was a collaborative effort by the young people and ably supported in execution by local artist Georgina Ellis."
Eve Baker, 40 Degreez

Was sold for £300

Otter Number 29
Created and Decorated by David Wright
and
Sponsored by Vale Furnishers

"In the words of Led Zeppelin 'Gotta whole lot of love'. The Farnham otter trail has inspired feelings of love for the art of nature and creativity. They are all so well loved by the people. As I've noticed how folks become animated by talking about and seeing the little fellows. Thanks you Vale Furnishers for allowing me to be part of the experience.
David J Wright

Was sold for £680

Otter Number 23
Created and Decorated by Surrey Choices Farnham Community Group
and
Sponsored by South Street Trust

"The Farnham Community Group, part of Surrey Choices, were very pleased to have the opportunity to decorate an otter. We enjoyed talking about what we love about Farnham and the places that are special to us and then we set about representing those on our otter. Although we were very upset to hear that our otter had been vandalised whilst on display, we are excited to have the chance to do it all again!
Laura Birch - Surrey Choices



THIS OTTER WAS VANDALISED. HIS REPLACEMENT WILL BE DONATED TO SURREY CHOICES AND WILL NOT BE AVAILABLE FOR AUCTION
For the auction day on 9th July 2018, we are indebted to Sholto Gilbertson from Bonhams, Kidd Rapinet, Farnham Chamber of Commerce and Farnham Castle for their sponsorship and support of the auction event.