Heartstart Farnham Lions
Heartstart is an initiative of the British Heart Foundation (BHF) aimed at reducing the fatality rate of "out of hospital" cardiac arrest, where the heart suddenly stops functioning and, unless immediate action is taken, death follows within a very few minutes. It is recognised that swift intervention by ordinary people, armed with a few simple skills, can buy time for the casualty until professional help by the Emergency Services can reached. There have been several recent examples of this in our locality.
The simple Emergency Life Support (ELS) skills are defined and, through community schemes, are taught to ordinary people throughout the UK.
Following a potentially fatal incident involving one of our members, Farnham Lions club has become affiliated to the scheme and, under the banner "Heartstart Farnham Lions", has formed a team of trained instructors to teach ordinary members of our community the "Simple Skills That Save Lives". Now into its third year of operations, the team has, so far, trained nearly four hundred local people to be potential life savers. Four of the instructors have been involved in real incidents, three having brought their skills to bear successfully and one having been on the receiving end!
The course takes about two and a half hours to deliver and classes are held, approximately twice monthly, on Wednesday evenings at the St John Ambulance Hall, near Waitrose, Farnham. The classes are free, although donations towards our expenses are very welcome, but optional.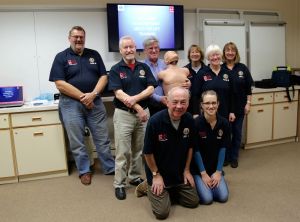 The Farnham Lions Heartstart team with Iain Lynch, Farnham Town Clerk, after a training session
If you want to know more, look at attending a training course, or to get any details please click on this link to Farnham Lions Heartstart
Bookings can be made, preferably, via:
heartstartfarnhamlions@hotmail.co.uk
Alternatively call Keith Aston on 01252 723319 or Joanna on 07793 273941.
If you would like to see the full story of one of the real incidents mentioned above, please look at the SJA website:
http://www.sja.org.uk/sja/support-us/the-difference/helpless/personal-accounts/joanna-and-keith.aspx
| | | |
| --- | --- | --- |
| | Our thanks to all who have attended our courses. The attendees in mid November 2016 are pictured here with our trainers after successfully completing the course. If you haven't been trained, its under three hours of your time, its free and the simple life saving skills you will learn could save someone. We would love to see you, so please come along soon! | |

Some action at the annual Farnham Carnival ELS Camp


Original instructor team (now growing rapidly)


Some of the team at ELS Camp
Our unsung heroes....
One Monday evening in February saw nine local residents of Farnham honoured in the Services to Farnham Awards. The awards were all presented by Farnham Town Mayor Pat Frost and whilst we would join in congratulating all nine recipients, we would offer our personal thanks to one recipient in particular: Jo Michaelides. Lion Jo Michaelides, whose prompt action a few years ago saved the life of a stranger, one of our members, who had suffered a cardiac arrest. Jo has since been a leading force in the development of Farnham Lions Heartstart that has now trained over 600 members of our community in the life saving skills of CPR, and recently her skills were put to use in real life again in another local emergency for a motorist in Farnham. Congratulations to Jo and indeed all nine recipients.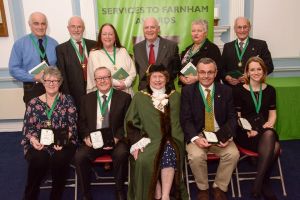 http://www.farnham.gov.uk/2016/02/farnhams-unsung-heroes-are-honoured