COMMUNITY IT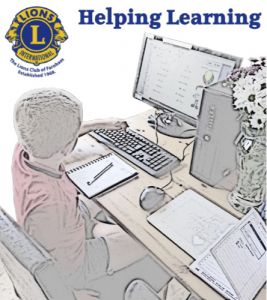 Since Lockdown commenced, local Lions Clubs have donated 400 PC's or Laptops and over 200 Monitors and other IT items to children in need of support with their schooling.
We still need more. If you can help, this is what we need:
We need PC's, Laptops, Flat Screen Monitors, Mice and Speakers that are in working order as well as, hard drives and cables
To donate:
Please send an email with a brief description / photo of the item(s) or your questions to:
We will respond and agree a time convenient to you for us collect from your doorstep.
The items should be: In good working order and presentable
- They will already be loaded with Windows Vista,7,8 or 10. We cannot use XP.
- Mac Books: Pro / Air and IMAC's
- Flat Screen Monitors.
- Mice, Sound Speakers and Webcams.


- PC's and Laptops with power adapters that are capable of running Windows 10.
- Chromebooks
- Tablets: Android and Ipads with cables and power adapters
- Memory Modules, Motherboards, Hard Drives, Graphics Cards, Keyboards
- Mice, Sound Speakers and Webcams.

More information look at https://www.youtube.com/watch
Farnham Lions are helping to fulfil the requirement for computer equipment for children who are now schooling at home and lack the essential tools.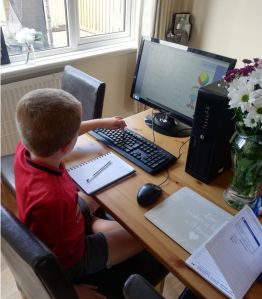 We were delighted to receive this photograph and a letter of appreciation from a thankful parent of one of the recipients showing her son doing his school work on a pc that had been fully refurbished by members of a local club, Fleet Lions. You can help a child by donating any unwanted pc's or laptops which will then be refurbished and re distributed to children in need. For more information please see the youtube video here

We are pleased to copy the Farnham and Villages Coronavirus helpline details below. These have been issued by Farnham Town Council and Farnham Maltings where the helpline is centred. They form the core of a community help initiative in Farnham and the surrounding viillages. If you wish to contact the helpline you can email as follows: