Our 2019 Beer list is here.......
Thanks to the beer committee we have the earliest ever list of beers for 2019. These are of course subject to some change but the current expectation is right here ! Can't wait !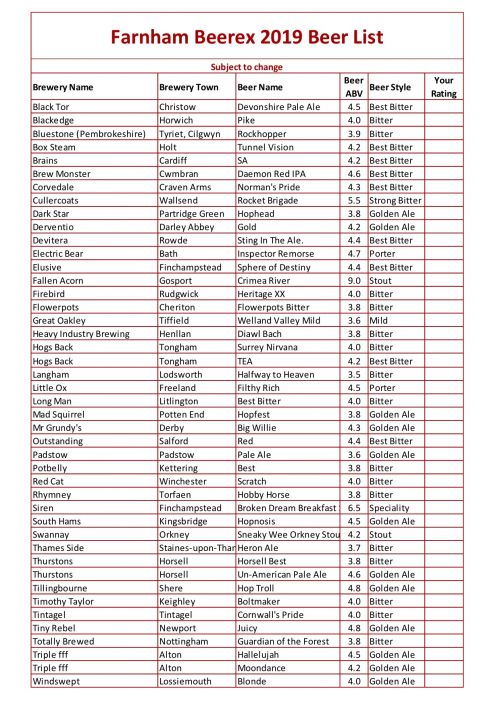 and we are pleased to confirm the special bar for 2019 will be a Welsh bar - lechyd da!
Here was the full list of beers in 2018
| | | |
| --- | --- | --- |
| Brewery | Beer | Description |
| Art Brew | Milk Stout (4.7 S) | Low hopped sweet stout. Contains Lactose, but is suitable for vegans. |
| Barngates | Red Bull Terrier (4.8) | An assertive roasty red beer with full mouthfeel. Initial sweetness and luscious fruit, give way to a lingering bitter finish. |
| Binghams | Doodle Stout (5.0 S) | A blend of dark malts provide a complex character. |
| Blackedge | Black Stout (4.0 S) | A velvety stout with intense roasted barley flavours and rich undertones of chocolate and coffee with a liquorice finish |
| Bluestone | Fossil Fuel (4.8 S) | A full bodied, creamy stout with a shot of Espresso for good measure. Lots of roasted malts and finished nicely with British Jester hops. |
| Box Steam | Chuffin' Ale (4.0) | A traditional bitter, chestnut brown in colour with a fruity aroma and a smooth, rich taste. |
| Bristol Beer Factory | Nova (3.8) | Citrus hop aroma to this straw coloured, light bodied and very bitter session ale. Hop led taste with lemon fruit and pale malt following into a bitter hop aftertaste. |
| Broken Bridge | Tessellate (4.0) | A hoppy pale ale with 5% to 10% each of spelt & oats and hopped with Mosiac and Simcoe. |
| Chadwick's | Castle Mills Mild (3.6 M) | A perfectly balanced traditional, fruity dark mild. |
| Church End | Goats Milk (3.8) | Champion Beer of Britain. Golden yellow nectar. Pale barley, crystal malt and oats, blend to fill the palate with flavour. Aromatic hops dance over the tongue for a gentle hop finish. |
Click here to download the complete file
And here is where you will find the beers in the Great Hall and Cellar Bar
41st Annual Beer Festival - Beer of the Festival 2017
Members of the 2017 Farnham Beerex Committee met at Tilford Brewery, located next to the Duke of Cambridge to present the brewers, Paul Griffiths and Mark Collins with the award for their Tilford Rushmoor Ripper which was voted as Beer of the Festival 2017 by the customers attending Beerex.
| | | |
| --- | --- | --- |
| Andy Gilbert, Beer Committee Chairman presenting the award to Paul Griffiths from Tilford Brewery. Also pictured Mark Collins from the brewery (left) and Phil Alexander, 2017 Beerex Chairman. | | |
40th Annual Beer Festival - Beer of the Festival 2016.
We were delighted to announce that the Vibrant Forest Brewery, located on the edge of the New Forest, CYDONIA wa chosen as the BEER of the FARNHAM BEEREX FESTIVAL 2016. http://www.vibrantforest.co.uk/
At the end of July 2016, a great day out was had by the 4 intrepid folk who ventured forth into deepest Lymington in the New Forest. Andy Gilbert, Chair of the beer committee reported "We made the presentation in front of the very nice bar in the brewery which had no less than 10 beers for us to sample." Kevin was very pleased to receive the award for Cydonia and has now won awards across his beer range showing the depth of his brewing prowess. Kevin started the brewery in 2011 in his garage and moved into the current location after quitting his job in 2014 and is going from strength to strength having just added 2 more fermenting vessels to cope with demand."

39th Annual Beer Festival - Beer of the Festival 2015.
We remember Farnham Beerex's 39th Annual Beer Exhibition was delighted to award Frensham Rambler, from Frensham Brewery the Beer of the Festival award for 2015 and very well deserved it was too! Husband and wife team, Miles and Emily, who own and run the brewery received their award from Beerex Chairman Phil Alexander and members of the committee.